Samsung Electronics is going to invest $6.97 billion (7.8 trillion KRW) into its manufacturing facilities in Xi'an, China and is going to extend its new NAND flash memory semiconductor manufacturing facilities.
Although Samsung Electronics explained that this was a 'planned investment', focus is on the fact that Samsung Electronics made this decision after three days removed from Vice-Chairman Lee Jae-yong receiving decisions from ruling of the first trial.
Samsung Electronics publicly announced on the 28th that it is going to invest $7 billion over three years period into constructing secondary line at its new NAND flash manufacturing facilities located in Xi'an, China. Samsung Electronics' management committee approved investment of $2.3 billion out of $7 billion on this day. $7 billion is equivalent to amount of investment made into primary line. Primary line is currently on full operation and its production capacity is about 100,000 wafers per month based on investment into wafers.
"We are going to make investments to extend our manufacturing facilities in Xi'an in order to respond to increase in number of demands for NAND flash memories." said Samsung Electronics.
Industries are deciding that Samsung Electronics' plan for this investment was already made before. It is heard that Samsung Electronics has been discussing with Chinese Government regarding methods and timing for additional investments since end of last year, which is immediately after Samsung Electronics fully operating the primary line. Even when Samsung Electronics announced in this past July that it is going to invest additional $19.7 billion (21 trillion KRW) into its facilities in Pyeongtaek until 2021, it announced that it was mediating on investment methods, amount of investments, and timing for its manufacturing facilities in Xi'an.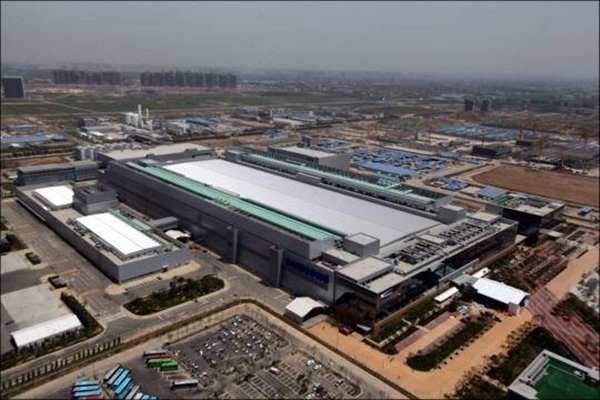 "Although department heads that are at the level of a president and are in charge of Samsung Electronics' memory business have rights to make an arbitrary decision on investments worth about $447 million (500 billion KRW), they need to receive pre-approvals for investments that worth at least $1 billion." said a representative who is familiar with Samsung Electronics' situations. "There is a tendency that Samsung Electronics' announcement on its investments in manufacturing facilities in Xi'an seems delayed than initial predictions made by industries."
"Because NAND flash memory is currently at an extreme short supply, extensions are necessary." said a different representative. "It must had been hard for Samsung Electronics to continue to delay its promise with Chinese Government regarding investments."
On this same day, Samsung Electronics public announced that some personnel of Samsung Electronics was given a guilty verdict from ruling of the first trial for an issue that was prosecuted by an individual special prosecutor, who was appointed in order to investigate monopolistic government scandal led by civilians such as Choi Soon-sil. These personnel includes Vice-Chairman Lee Jae-yong, former Vice-Chairman Choi Ji-sung, former President Jang Choong-ki, former President Park Sang-jin, and former Executive Director Hwang Sung-soo. Actual confirmed amount is $7.23 million (8.09095 billion KRW).
Staff Reporter Han, Juyeop | powerusr@etnews.com