South Korea is going to start world's first ground-wave UHD broadcasting.
Ministry of Science, ICP and Future Planning (MSIP) and Korea Communications Commission (KCC) announced on the 30th that three ground-wave broadcasting companies are going to start world's first UHD broadcasting in capital areas starting from the 31st at 5 A.M.
Ground-wave UHD broadcasting provides 3D sound and quality that is more than 4 times clearer than current HD broadcasting and is a new broadcasting service that allows variety of duplex services such as replay and information on disasters if a TV is connected to internet.
Not only South Korea was able to confirm its next-generation broadcasting communication technology starting with world's first ground-wave UHD broadcasting but it has also grabbed upper hands in advantageous opportunities that will allow South Korea to lead global UHD broadcasting markets.
Besides this, South Korea can feel out possibilities of global standards for its UHD broadcasting contents, equipment and knowhow on operation along with expansion of stages of ground-wave UHD broadcasting.
It is also expected that there will be significant amount of ripple effects on front-end and rear-end industries that are related to ground-wave UHD broadcasting.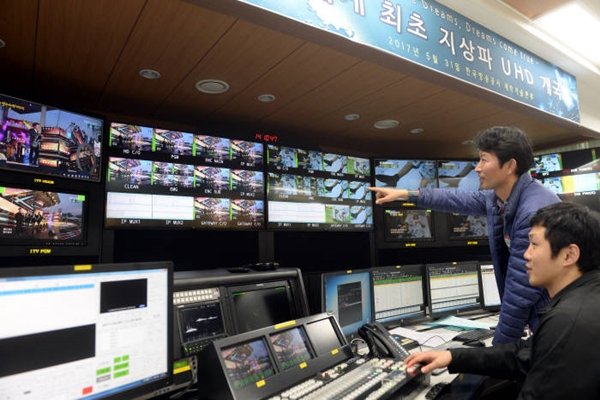 South Korean Government and broadcasting companies are going to start UHD broadcasting in capital areas such as Seoul Gyeonggi, and Incheon as a first step. In December, they are going to start UHD broadcasting in metropolitan cities such as Pusan, Gwangju, Daegu, Daejeon, and Ulsan and Gwangwon region, where 2018 Pyeongchang Winter Olympics is going to be held, as a second step. Afterwards they are going to provide UHD broadcasting in all cities and districts in South Korea starting from 2020 to 2021 as a third step.
According to MSIP and KCC, three ground-wave broadcasting companies are planning to increase percentage of UHD programs that are manufactured by 5% every year until 2019 in order to vitalize UHD broadcasting.
Also starting with IP-based duplex service that connects TV and internet at the end of this year, they are going provide personalized VoD service according to characteristics of viewers and an environment that allows one to view channels by connecting a Smartphone to a TV. They are also going to prepare new services for relay broadcasting of Pyeongchang Winter Olympics so that viewers can watch sports that they want regardless of regular schedule or heck information on variety of sports in real-time.
However there are many tasks that are need to be done to materialize expected effects that have occurred due to start of world's first ground-wave UHD broadcasting.
In order to continue superiority in technologies, it is urgent for broadcasting companies to manufacture and secure contents with good quality. Also another prerequisite is to improve reception in order to expand rights to view ground-wave UHD broadcasting.
"Not only are we going to provide administrative and technical support to vitalize broadcasting industries related to ground-wave UHD broadcasting services but we are planning to continue our cooperation with related organizations." said representatives for MSIP and KCC.
Staff Reporter Kim, Jihye | jihye@etnews.com