Samsung Electronics has increased its goal for yearly shipment of its Smart Watch called 'Gear S3' that will go on sales in next month. This amount is 60% more than overall shipment of Samsung Electronics' Smart Watches and Bands. Its strategy is to get a head start in global wearable device markets that are growing rapidly.
According to an industry on the 28th, Samsung Electronics is supplying and demanding components for Gear S3 that is expected to be released in fourth quarter. Part of components that are being supplied as unit of modules will be mass-produced in next month. According to this schedule, it is expected that finished products will go on sale at the end of next month at the earliest.
Samsung Electronics told its major partners that it is expected to ship out 5 million Gear S3s per year. This goal is a strategy with strong initiatives. According to a market research organization called IDC (International Data Corporation), Samsung Electronics had shipped out 3.1 million Smart Watches and Bands last year. This new goal is increasing yearly shipment up to 61.3% along with release of Gear S3.
While it is predicted that wearable device markets will grow rapidly, Samsung Electronics has more confidence in 'well-made Smart Watch'.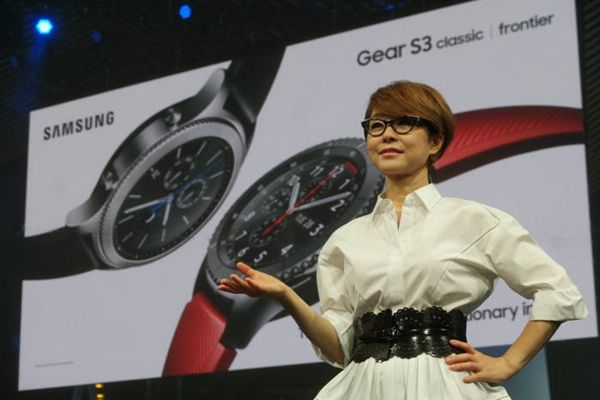 Gear S3, which was introduced in Berlin on the 31st of August (in Berlin time), supports LTE and has its own altimeter, barometer, and GPS. It also has IP68-level waterproof and dustproof functions. With its newly-improved design, it is now evolved that it does not have much difference with normal watches.
As Samsung is working hard in increasing its market shares in Smart Watch markets, it is expected that corresponding component manufacturers will receive benefits. Types of antennas that are built to implement variety of network such as LTE, Bluetooth, Wi-Fi, and NFC (Near Field Communication) are primary examples. Gear S3 is the first Gear series to have Samsung Pay that supports both NFC and MST (Magnetic Secure Transmission).
Variety of types of sensors such as waterproof and dustproof materials and components and modules for wireless charging function is also drawing high expectations. Demands for sensors have increased to support fitness and leisure activities without Smartphones. Unlike Galaxy Smartphones, Smart Watches come with wireless chargers. It is heard that Samsung Electronics is even thinking about additional suppliers rather than just increasing number of orders of certain components.
"Although we are planning to release Gear S3 in fourth quarter, exact schedule is not decided yet." said a representative for Samsung Electronics. "While exact schedule is not decided, it is too early to discuss about estimated shipment."
Staff Reporter Song, Junyoung | songjy@etnews.com & Staff Reporter Ham, Jihyeon | goham@etnews.com