Samsung Electronics has expressed its confidence of occupying Smartphone markets in advance with 'meaningful innovation' and it also materialized its course of action in continuing meaningful innovation on 'ecosystem of Galaxy'.
Samsung Electronics introduced Galaxy Note 7 at 'Samsung Galaxy Unpack', which was held in New York on the 2nd (U.S. time), and presented meaningful innovations that customers want as a topic. (Related articles on page 4 and 5)
This can be seen as Samsung Electronics' confidence in meaningful innovation that is applied to Galaxy Note 7 and as Samsung Electronics declaring a war against Apple in occupying superiority in advance.
"Meaningful innovations have to satisfy customers' needs and challenge stereotypical thinking." said President Ko Dong-jin of Samsung Electronics' Wireless Business Department. "If one listens close to voices of customers, there are still many innovations that still need to happen."
This indicates that Galaxy Note 7 is a fruit of meaningful innovation that provides better values and convenience to customers and a rebuttal towards skepticism that believes that innovation of Smartphones will be impossible.
This is also Samsung Electronics' intention to focus and differentiate on 'technologies that customers want' rather than 'technologies for technologies'.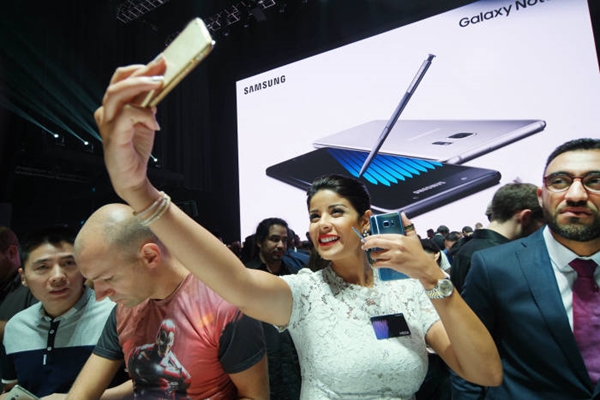 This implies that Samsung Electronics will continue to work on innovations after Galaxy Note 7.
Samsung Electronics chose 'iris recognition' and 'S Pen', which are applied to Galaxy Note 7, as examples of meaningful innovation. Samsung Electronics met demands from customers on Galaxy Note.
"Interests on security have risen as number of customer information has increased and there were many customers that wanted usage of S Pen to be bigger." said a representative for Samsung Electronics.
This can be seen as Samsung Electronics' intention to win in competitions against Apple and Chinese Smartphone manufacturers through innovative functions that customers want.
"There are still people that express doubts on whether or not if Smartphones can be innovated more." said President Ko. "Samsung Electronics' trust into meaningful innovation is stronger than ever."
Samsung Electronics also introduced its strategy on Smartphone ecosystem such as 'Phone Plus Strategy' that combines Galaxy Note 7 and surrounding devices. VR ecosystem can be formed by combining Galaxy Note 7, Gear VR and Gear 360 while Samsung Electronics Fitness ecosystem can be formed by linking Galaxy Note 7 with Gear Fit 2 and Icon X. Samsung Electronics' goal is to provide innovations in daily lives by grafting surrounding devices that have functions that customers want with Smartphones such as Galaxy S7 and Galaxy Note 7 at the center.
"As Galaxy Note 7 occupies potential demands of Smartphones in advance until next month when iPhone 7 is released, shipment of 12 million Galaxy Note 7 is possible by end of this year by shipping 5 million and 7 million in third quarter and fourth quarter of this year respectively." said Hyundai Securities Co., Ltd. while there are favorable comments towards Galaxy Note 7 in South Korea and foreign countries.
Staff Reporter Kim, Yongjoo | kyj@etnews.com