Followed by Apple, Samsung Electronics is also out to advertise its SamsungPay in China. There are already optimistic predictions on who is going take over Chinese mobile payment market, which is worth about $345 billion (400 trillion KRW), between Samsung Electronics and Apple. However mobile payment experts in China and South Korea believe that Alibaba, not Apple, is going to be Samsung Electronics' biggest rival.

After taking surveys from top executives of 12 Smart financial departments from South Korean banks and card companies on whether or not SamsungPay will succeed in China and problems that it needs to solve, Electronic News has come out with such result.

Many South Korean financial companies that are working with SamsungPay believe that Samsung Electronics needs to take care of supply of Galaxy Smartphones and securing users from payment markets first. More than 90% of survey takers predict that Alibaba will be SamsungPay's biggest rival.

China's mobile payment markets rapidly grew to be worth about $302 billion (350 trillion KRW) in 2014 after being worth $10.3 billion (12 trillion KRW) and $20.7 billion (24 trillion KRW) in 2011 and 2012 respectively. These markets are worth 15.9% and 8.7% of China's e-commerce markets ($1897 billion (2200 trillion KRW)) and China's retail markets ($3445 billion (4000 trillion KRW)) respectively.

Experts criticized lack of supply rate of Smartphones that are able to use SamsungPay and lack of usage of marketing such as online-based promotion and others.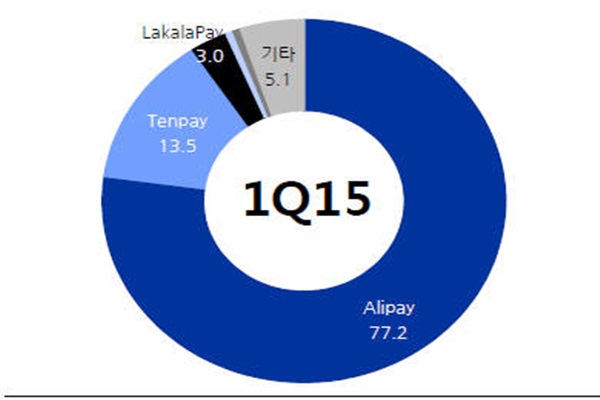 Experts proposed that Samsung Electronics needs plans that can surpass offensive marketing from Alibaba that holds more than 70% of electronic payment markets.

Based on first quarter of last year, AliPay held 77.2% of shares in Chinese mobile payment markets and it was the electronic payment system that most Chinese uses. System that is specialized to online shopping and promotions such as huge discounts and benefits that correspond to Chinese tendencies are seen as causes of AliPay's success.

Main purpose of mobile payments made by most Chinese is for online shopping. Alibaba's main platform is online shopping mall such as Taobao, Tmall and others. It is not an exaggeration to say that connection between online shopping malls and payment services is the one that moves China's ChinaPay. If SamsungPay and ApplePay are not able to attract AliPay users, they might have to face worst situation of withdrawing from Chinese markets.

Financial experts put out their stance that says that SamsungPay first needs to attract Chinese online businesses.

Samsung Electronics and Apple similarly succeeded in attracting Chinese financial companies. However Apple has recently absorbed or is pushing to absorb Dianping, Vip.com, Dangdang, Idao Taxi, China Air and others under the water. SamsungPay also needs to attract online businesses that can carry out their influence at an early stage if it wants to see an effect of inflow of consumers.

Although rush of SamsungPay is expected if one just looks at its versatility, Achilles heel of Samsung Electronics is that its supply of Smartphones noticeably decreases in China if it enters prolonged battle with other mobile payments. Many predict that Samsung Electronics will have hard time in preoccupying Chinese market if it cannot attract users in an early stage.

"If SamsungPay wants to grab hold of Chinese market, three strategies of extensive promotion and marketing that correspond to behaviors of Chinese on payments, attraction of young users, and supply of inexpensive phones need to be meshed together." said a high-ranking representative of a Chinese card company.

"AliPay gives 20% discount from 100 supermarkets every 28th of a month while TenPay is doing unconventional marketing such as giving discount of 5 Yuan and saving of 5 Yuan whenever consumers make payments using TenPay." said a representative of a card company that is a partner of SamsungPay. "There aren't many incidences when SamsungPay had carried out extensive promotions in the U.S. or Korea and there is a high chance that SamsungPay will be ignored by Chinese consumers if Samsung Electronics stresses only convenience of payments."

"Because China has generalized payment method as Alibaba and Tencent take up 90.7% of payment services, Samsung Electronics needs to instill motives if it wants to change Chinese users' behaviors." said Jung Ha-neul who is an economist from EBest Investment & Securities co., Ltd. who is in charge of China. "Because Samsung Electronics is not doing any special promotions other than stressing that SamsungPay is a convenient payment service, it needs to expand added services such as coupons, utilization of discounts and others in China."

Staff Reporter Gil, Jaeshik | osolgil@etnews.com