South Korean Government is launching establishment of 'Public Wi-Fi 2.0 (tentative name)' Strategy that has profit-based self-supporting business model.

It is launching such strategy because it is difficult to invest continuous national budget into public Wi-Fi, and mobile telecommunication businesses that are responsible for management are feeling more financial burden. If targets of service and locations are expanded based on profit, it seems that they will greatly reduce South Korean citizens' household communication expenses.

According to communication industries on the 8th, Ministry of Science, ICP and Future Planning (MSIP) is operating an industrial-educational research team for medium and long-term directions of improvement for public Wi-Fi. National Information Society Agency (NIA) had already submitted current analysis of public Wi-Fi and a draft of direction of improvement, and establishment of direction of improvement of public Wi-Fi 2.0 will be established in first quarter of next year at the earliest.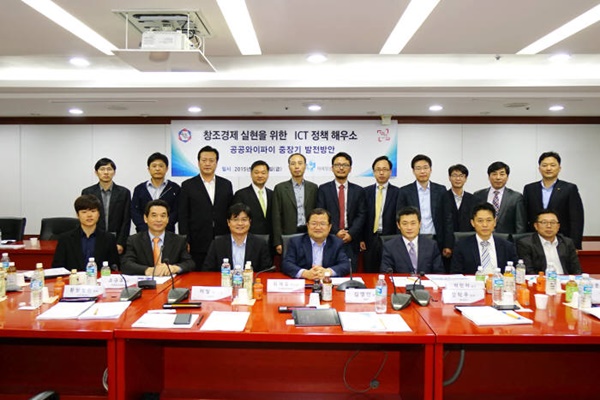 Establishment of public Wi-Fi is a promise made by current presidential government, and it is currently pushing for public Wi-Fi 1.0 businesses based on public facilities such as traditional markets, health centers, welfare facilities and others. Starting with 2000 places that were opened for free by mobile telecommunication businesses in 2012, establishment and opening of 12,000 places (6,000 places each) are promised by 2017.

Until September of this year, number of uses of public Wi-Fi is 74.14 million (accumulated). Number of uses that used to be only 160,000 in January of 2013 had increased more than 35 times to 5.63 million in last September. Although number of access points (AP) is only 5.3% of commercial Wi-Fi, traffic per AP is 1.8 times of commercial Wi-Fi. According to a survey, majority of public Wi-Fi users had responded by saying that public Wi-Fi helps reduce communication expense and solve gap in information.

Although positive effects of public Wi-Fi have been confirmed, there are limitations in pushing this business. It is difficult to continuously invest national budget in maintaining and installing public Wi-Fi, and mobile telecommunication businesses are feeling financial burden in new investments, management, and maintenance. However local governments are wanting to expand targets of service towards tourist spots where many tourists many visit, and elementary, middle, and high schools. Also public Wi-Fi users are expecting increase of service locations and improvement in Wi-Fi quality.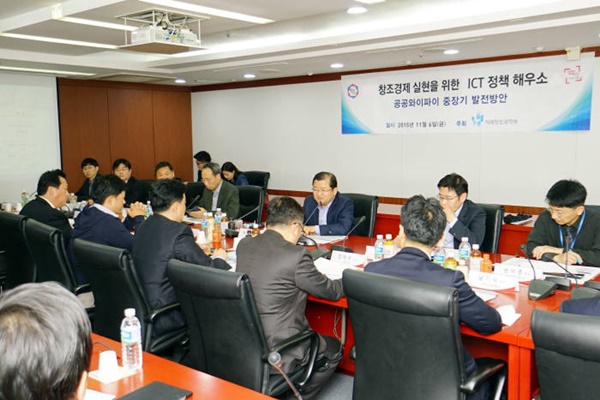 MSIP is thinking about a business model that will bring in profit. If public Wi-Fi becomes self-supporting, it can solve variety of problems at once. This is a reason why 'Meeting to Solve ICT Policy' had taken place on the 6th to discuss about a need for a profit structure utilizing variety of business models such as advertisements and others.

A plan to secure profitability by exposing advertisements for certain period of time before accessing to public Wi-Fi was also discussed. New York utilizes business's advertisement profit model without investments from governments, and Starbucks in South Korea also use methods of exposing Starbucks's advertisements while paying fees to KT. Number of variety of forms of public-private cooperation business models is increasing.

"It is true that a method of earning profits from establishing all of infrastructures based on advertisements is unfamiliar in South Korea compared to other countries. However because mobile advertisements are expanding and all of participants feel the same about a need for public Wi-Fi, we all believe that it is a right direction." said BigSun Systems' CEO Kwon Tae Il who had participated the meeting to solve ICT Policy.

Participants all had agreed that management of public Wi-Fi needs to bring profits not only to users, but to all mobile telecommunication businesses, platform businesses, and consulting businesses. As paradigm and trend of using wireless communication are starting to change, participants are focusing on preparing direction of improvements while considering variety of surroundings.

"Roles of Wi-Fi are increasing as a new ICT infrastructure for IoT and increase in demands of wireless internet. To help public Wi-Fi play new roles, we are going to actively apply plans of improvements that were presented today and variety of opinions that were suggested towards policies for public Wi-Fi." said Second Vice-Minister Choi Jae Yoo of MSIP.

Staff Reporter An, Hochun | hcan@etnews.com