LG Electronics greatly increased number of product line of OLED (OLED176) TVs.

LG Electronics is releasing 5 kinds from 4 series of OLED TVs in Korean market in order starting from the 27th. It was able to secure total of 10 kinds from 8 series of OLED TV products in Korean market.

Out of 5 kinds of new OLED TVs, LG Electronics composed 4 of them as Ultra OLED TVs because it wants to actively pursue Ultra-HD TV market that is growing rapidly. Actually out of OLED TVs that LG Electronics sold in Korean market in May and June, percentage of Ultra OLED TV sales closed upon 25%.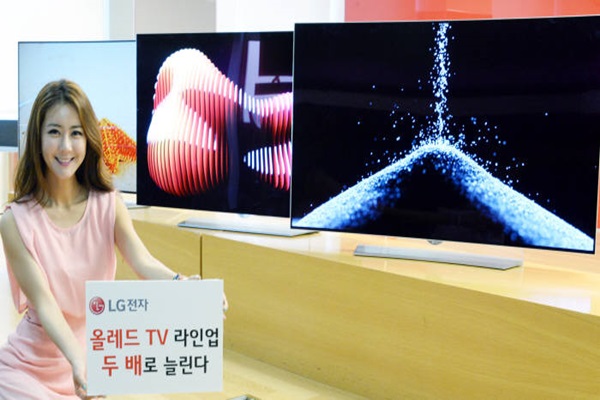 For the first time, LG Electronics released 65-inch and 55-inch Ultra OLED TVs (Model name: EF9500) that had flat-screen design.

LG's newly released LG OLED TVs materialized Art-Slim design by decreasing volumes of components and circuit parts in OLED TVs that are already thin and light. Because 55-inch Ultra OLED TV's thickness is merely 4.8 mm, it is thinner than normal Smartphones.

If one applies and uses cashback benefit, one can purchase 65-inch flat Ultra OLED TV (65EF9500), 55-inch flat Ultra OLED TV (55EF9500), 55-inch curved Ultra OLED TV (55EG9470, 55EG9450), and 55-inch curved OLED TV (55EG9350) at $7,615 (8.9 million KRW), $4,620 (5.4 million KRW), $4,620 (5.4 million KRW), and $3,157 (3.69 million KRW) respectively.

Using benefits from cashback, one can purchase 65-inch Ultra OLED TV and 55-inch Ultra OLED TV that were released in last March at $9,326 (10.9 million KRW) and $5,903 (6.9 million KRW) respectively. Asking price fell about 20% in just 4 months, and this means that LG will speed up its process of popularizing premium TV by lowering price.

Because OLED TV can produce light without backlight, it can produce flawless black color unlike previous LCD TVs and represent accurate colors. There is almost no change in colors when it is viewed at any angle. Out of existing TVs, it is evaluated that OLED TV can produce colors that are most similar to nature.

Director (President) Choi Sang Kyu of LG Electronics' Korea Business Department stressed that LG is strengthening its strategy to attack premium TV markets by increasing OLED TV's product line that has innovative design and different-level of picture.

Senior Reporter Kim, Seungkyu | seung@etnews.com