Google's Intellectual Property's (IP) strategy is to purchase patents aggressively. Google purchased 4379 patents in last 10 years, which is about half of what Google currently possesses (~8000).

According to IPnomics' paper 'What blue ocean strategy is Google preparing' that is co-released by ETRC and Patentpia (Representative Kang Min Soo), Google purchased 4030 patents in last 3 years, which is about 90% of what it purchased in last 10 years.

An area that Google purchased most patents is network, and it secured 280 patents in last 10 years. Most of the patents are related to user's data processing and mobile communication.

In 2007 when Android was made to public, Google primary focused on purchasing patents in mobile field such as wireless network and Wi-Fi 26. Google purchased most of the patents from Motorola (bought in 2011) and IBM. It put forth an efficient strategy by keeping main patents after selling Motorola to Lenovo in 2014.

Google purchased 896 patents in 2014 alone, and patents regarding display were the most (200). Areas such as Artificial Intelligence (regarding Smart Home, remote control, etc), information security, and Smart Cars are areas where purchase of their patents increased dramatically.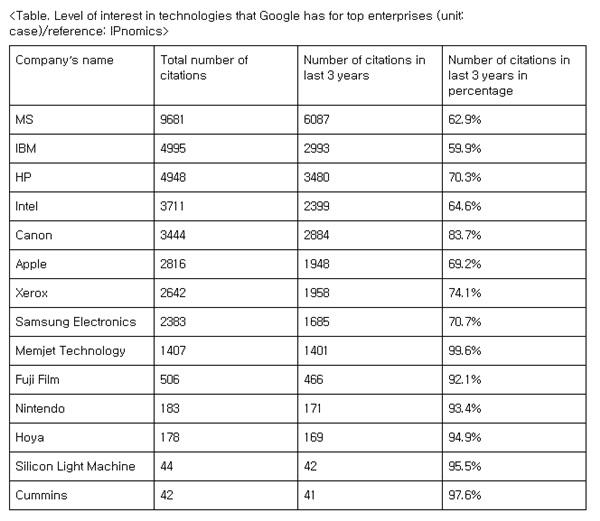 There are a lot of interests on 'Patent Marketplace' that Google introduced on the 8th. This is a strategy where patents that are dealt in this marketplace can strengthen Google IP portfolio and raise its technology completeness.

According to collator "Will Google buy my patent?" (www.ipnomics.co.kr/?p=12009) that IPnomics provided, Google is mostly interested in mobile communication patents that MS, IBM, HP, Apple, and Samsung Electronics possess. Although there is not much possibility that these enterprises will sell their parents to Google, one can focus on the fact that they are related technologically with future business that Google is aiming.

According to Google collator's search result, Google is recently showing a lot of interest on Memjet Technology. Memjet is a startup that possesses super high speed color printing technique. Memjet's patent is a color ink application technique that can be applied on displays and small cameras with wearable devices. Wearable device field such as Google Glasses is a field that Google is focusing on and its percentage of purchase in last 3 years is 100%.

Google collator analyzes Google's 15,000 patents' citation relationship and prior technology relationship and distinguishes similarity and influence between patents.

Google patent collator is provided for free on IPnomics homepage (www.ipnomics.co.kr).

Staff Reporter Lim, Geetaek | geetaek@etnews.com