Gap In Technologies Is Widening By The Effect Of 14-Nano FinFET
Samsung's foundry business is growing as Samsung becomes in charge of producing Qualcomm's mobile application processor (AP) following Apple. As there is a high chance of a surplus in System LSI in the second quarter, Samsung plans to increase its surplus radiply through its 14-nano FinFET process.

Samsung Electronics is planning to produce Qualcomm's next-generation flagship model 'Snapdragon 820' through its 14-nano FinFET process. Qualcomm is currently providing Snapdragon 808 and 810 to the market.

Samsung Electronics enjoyed a lot of benefits from 14-nano FinFET process as it helped Samsung win a contract with Qualcomm's chip following Apple's AP 'A9'. Although it lost 'A8' production supply to TSMC, and all System LSI's results turn into a deficit due to an aftermath of lawsuit with Apple, it was able to succeed in widening the gap in technologies by rapidly mass-producing 14-nano FinFET.

TSMC is testing mass-production through 16-nano FinFET Plus process, which indicates that its goal is to start mass-production by end of the year.

As Samsung succeeded in winning a contract with Qualcomm's large supply following Apple, there's a great hope that System LSI's results will turn into surplus in second quarter.

System LSI business department made a deficit about 1.1billion dollars(1.2trillion KRW) last year. Stock market is estimating that even though it made 100~200 million dollars of deficit last first quarter; it will make about plus or minus 200 million dollars of surplus in this second quarter. Market is forecasting that LSI business will make about 1 billion dollars of surplus within a year.

Samsung Electronics quickly raised System LSI's business's competitiveness through 14-nano FINFET. While there was a controversy about Qualcomm's Snapdragon 810 performance, Samsung corresponded with its own Exynos, which eventually became a catalyst of expanding its AP business. Foundry business turned its business relationship with Apple back to normal through its technical skills.

Samsung Electronics is showing a lot of confidence about its FinFET process. It is concentrating on stabilizing mass-production of 14-nano FinFET and planning to mass-produce 10-nano FinFET starting at the end of next year. This shows that it is planning to widen its gap in technology to TSMC.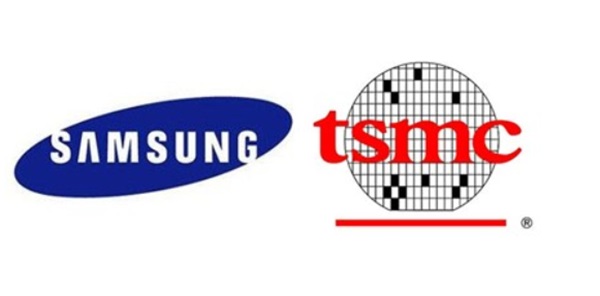 TSMC's counterattack is hard to ignore too. Although it planned 16-nano FinFET Plus process, it is currently in a risk production stage to produce and it is planning to formally start its mass-production end of this year.

TSMC will start its risk production of 7-nano process starting from early 2017.

"We started developing 7-nano process with our main clients last year. If we start mass-production during fourth quarter of 2017, then it is safe to say that we'll start contributing to the sales starting from 2018." Mark Liu of TSMC's co-CEO said about its plan for 7-nano process.

It is also planning on 10-nano FinFET process. It will expand its 10-nano process production starting from a fourth quarter of next year and it will contribute to the sales starting from early 2017. Although it lost to Samsung Electronics in preparing for 16-nano FinFET Plus process, it is starting its mass-production of 10-nano process at the same time.

"Depending on TSMC's preparation, Apple can adjust the amount of production at any time. Variables such as TSMC's correspondence to 16-nano and preparation for 10-nano always exist." A person in this business circle said about TSMC's preparation.

Staff Reporter Bae,Okjin | withok@etnews.com