POSCO ICT, the 1st domestic electric car charging infrastructure business, will be installing charge stations over all the hotels in South Korea. It is their marketing plan to target hotel business first, reacting to the increasing demand for electric cars.

POSCO ICT will be contracting with the Accor Ambassador Hotel on the 23rd for the charging infrastructure service. They are planning to set up charge stations in Accor Ambassador branches in Seoul and capital area and 15 hotels more around the country.

With such movement, POSCO ICT has 120 E-Mart charge infrastructure, 3 in Yeoju premium outlet, and 45 in Jeju Island, total of about 180 charge stations. It is almost the same number with the government's 233 charge stations that started building in 2012, which makes POSCO the leader in the field among private enterprises. Unlike government's charge infrastructure focused on public facilities, they have focused on the users of electric cars and make their usage of the car much more active.

POSCO ICT's charge infrastructure is compatible with all electric car that has been released domestically. Unlike the government's charge station, all the chargers at the stations have integral charging cable which makes it much more comfortable and easier to use.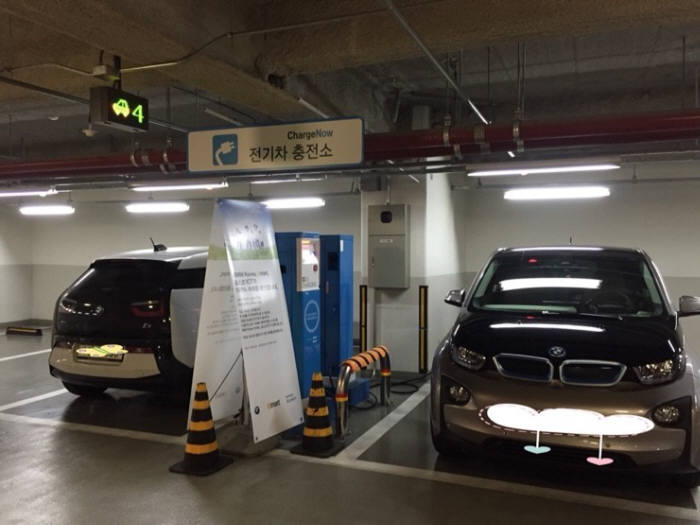 The smartphone117 app 'ChargEV' lets the user to know where the charge station is located, how to use, and if the machines is broken or not. Soon it will add on navigation and location information feature.

POSCO ICT official said, "We plan to cooperate with Accor Ambassador and expand our charge infrastructure but cannot leak out detailed plans yet. We are also planning to charge fees for the service accordingly to Ministry of Industry or Environment announces charging fee rate for electric cars."

Staff Reporter Park, Taejoon | gaius@etnews.com