As Kakao has been given an approval to enter South Korea's securities market, Kakao is expected to bring a huge change to the market as it has 23 million users. The industry is interested on what kind of impact Kakao will have on the landscape as Financial Services Commission (FSC) gave a final approval to Kakao Pay to acquire Baro Investment & Securities.
KakaoPay, which was established as a Fintech subsidiary of Kakao in April of 2017, has created various Fintech services with a mindset of becoming a convenient and safe daily financial platform. It started South Korea's first mobile simple payment service and it has drastically improved financial services such as online and offline payment, wire transfer, authentication, and bill that were very inconvenient to use.
As a result, KakaoPay has more than 30 million users and its MAU (Monthly Active Users) surpassed 19 million people as of August of 2019. Its turnover at the end of the first half of 2019 was $18.6 billion (22 trillion KRW).
Although KakaoPay has introduced various financial services, induced big and small changes from people's lives, and seen its turnover grow exponentially, its overall performance does not correspond to all these feats.
The securities industry analyzes that KakaoPay's sales grew rapidly from $55.8 million (66 billion KRW) in 2018 to $127 million (150 billion KRW) in 2019 and it estimates that KakaoPay's sales will exceed $169 million (200 billion KRW) this year.
On the other hand, KakaoPay has been recording losses in its operating profit as it has focused on rapidly securing manpower and carrying out R&D. As open banking system has been implemented this year, it is expected that fees on wire transfers, which had been around $8.45 million (10 billion KRW) every quarter, will be greatly reduced. As a result, it is expected that KakaoPay's operating loss, which had been around tens of millions of dollars every year, will be greatly reduced to about millions of dollars.
Kakao is planning to apply its simple payment service based on Fintech to its securities business as well. KakaoPay has been providing services such as payment, wire transfer, authentication, and investment through KakaoPay mobile application. Because the mobile application allows consumers to stay home to use various financial services and minimize unnecessary steps, KakaoPay was able to secure many users in a very short period of time.
Based on this strength, Kakao is also planning to put forth simple services for its securities business.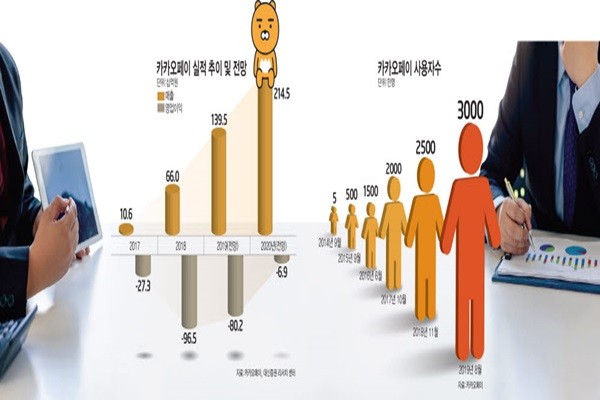 KakaoPay has prepared a groundwork for securities services by purchasing 60% of Baro Investment & Securities' shares for $33.8 million (40 billion KRW) in October of 2018. Baro Investment & Securities is a small to midsize stock firm that is specialized for corporate financing and it provides financial advices while selling and mediating various financial products. By acquiring Baro Investment & Securities, KakaoPay has quickly secured basic IT infrastructures for securities.
South Korea's financial circle believes that KakaoPay will look to secure new sources of profit on full-scale starting with entering the securities market. While most of simple payment providers is facing limitation in their growth due to low profit compared to turnover, KakaoPay has prepared a way to be free from such limitation.
While KakaoPay had provided various financial services by working with other financial companies, it is now able to provide financial products on its own by acquiring Baro Investment & Securities. If it expands its business towards investment brokerage or financial product sales, it will be able to see its profit grow naturally.
Most importantly, KakaoPay needs an account where funds can be deposited if it wants to deal with securities. The industry believes that Kakao will be able to provide CMA (Cash Management Account) service first because Kakao will be able to increase number of its basic securities services users if it increases amount of money deposited by its users through KakaoTalk and KakaoPay users. As a result, it is likely that Kakao will first introduce differentiated CMA services such as providing an unprecedented interest rate.
Fact that Hana Bank was able to induce many consumers by introducing an installment savings that provides an interest rate of 5% range temporarily supports the industry's prediction. If Kakao introduces easy financial services for financial consumers who cannot find right investments in this era of super-low interest rate and provides an unprecedented interest rate, it will be able to attract users of its securities services as well as new KakaoPay users.
KakaoPay can also seek for synergy between its securities services with its current financial services. KakaoPay's goal is to provide a financial platform for young men and women who do not have many assets so that they can invest in various financial products with small amount of money and manage their assets. In addition to its partnership with credit card companies, stock firms, and banks, it is planning to continue to expand its business towards areas where its platform's strengths can be emphasized even more.
As there is an increase in demands for mobile services, Kakao is also planning on a new asset management service based on mobile service.
"Because we just passed the final screening from Securities & Futures Commission regarding our acquisition of Baro Investment & Securities, we are going to carry out our business strategies one by one." said a representative for KakaoPay. "Our basic policy is to differentiate ourselves through easy and convenience services based on Fintech."
Staff Reporter Bae, Okjin | withok@etnews.com