South Korean Government usually announces its 'direction for second-half economic policies' at the end of June. Fact that it has yet to make any announcement is a circumstantial evidence that it is seriously concerned about current economic state of South Korea. One can also make such prediction by looking at South Korean Government's measures. South Korean Government has prepared many temporary solutions that are limited to the second-half of this year and is focused on making visible performance as soon as possible.
However, many believe that it still lacks measures to recover current state of South Korean economy that is becoming worse. It blamed changes in foreign environment rather than lack of political measures for recent difficulties and it only supplemented or extended existing measures. Experts believe that this year's economic growth rate, which was adjusted downwards by South Korean Government and stands between 2.4 and 2.5%, cannot be guaranteed as well.
◊South Korean Government lacking ground-breaking measures
South Korean Government never mentioned 'lack of policies or insufficient policies' while evaluating how it had managed economy during the first-half. Rather, it stated that it had gone all-out while focusing on economic vitality, constitutional improvement, tolerance, and preparation for the future and that it started to see visual changes as major tasks have generally been propelled normally.
It pointed to changes in foreign environment and structural issues as the reasons for economic slump.
"We need to reinforce supplementation to certain tasks due to worsened foreign conditions and structural changes." said South Korean Government. "We also need to improve economic vitality to respond to increased downside economic risks and strengthen our efforts in structural actions against rapid changes in global industrial trends and changes in structure of population that are becoming more real."
Because South Korean Government is looking at external factors as reasons for economic slump, it has yet to come out with any drastic and ground-breaking measure. Rather, it only supplemented or extended current policies and put out reflation measures.
It stated that once $5.73 billion (6.7 trillion KRW) supplementary budget plan is processed by the National Assembly, it would quickly execute more than 70% of the plan within two months. However, not only is the budget plan not a new measure but there is no guarantee that it will go through the National Assembly.
'Three tax reforms for promoting private investments' prepared by South Korean Government only supplement or extend existing measures. Industries point out that these reforms will not propel businesses to establish new investment plans or push forward investment plans scheduled for 2020.
$8.55 billion (10 trillion KRW) + α private investment project support, additional investments by public agencies, and extra support for politically supported financial industries are safe measures that are almost always included into South Korean Government's economic policies.
"Although South Korean Government is putting in efforts, it will be difficult for its measures to change intent on private investments." said Professor Sung Tae-yoon of Yonsei University's Economics Department. "Because our economy is becoming worse quickly, political effects will have limited impact on private investments."
Although South Korean Government included few measures to boost spending, none of them are ground-breaking and they require legal revision that will make it unclear whether it will be possible to push for them during the second-half.
Extension of reduced special consumption tax when purchasing a car (until December of 2019) was already announced by South Korean Government and it is currently in a working process. Policy that will reduce special consumption tax when exchanging a car that is at least 15 years old with a new car requires revision to Tax Reduction and Exemption Control Act and it is not guaranteed that it will be implemented during the second-half. South Korean Government is also pushing for 10% refund of the cost of high-efficient home appliances, increase in purchase limit at duty free shops for residents ($3,000 to $5,000), and extension of exemption of special consumption tax until 2022.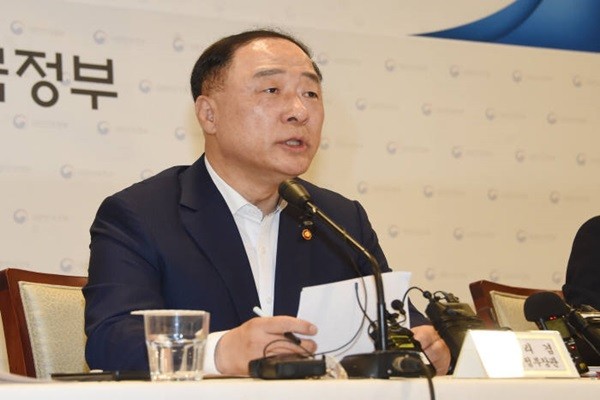 ◊South Korean economy expected to struggle continuously
South Korean Government predicted that its economic growth rate for 2019 will be between 2.4 and 2.5%. These percentages are about 0.2% lower than the percentages estimated at the end of 2018.
Fact that South Korean Government practically acknowledged that it will be difficult for economic growth rate to stay in the middle of 2% range is very meaningful. If this year's growth rate falls below the middle of 2% range, it will be the first time the economic growth rate will be below the middle of 2% range since 2012 (2.4%). Growth rates for the past six years were 3.2%, 3.2%, 2.8%, 2.9%, 3.2%, and 2.7% respectively.
Some predict that even 2.4% will be difficult. Some private sectors estimate that this year's growth rate will be in the front-end of 2% or even 1% range. Actually, South Korean Government's prediction does not consider trade retaliation by Japanese Government that has come to the surface recently. Also, its prediction is based upon the premise that $5.73 billion (6.7 trillion KRW) supplementary budget will pass by end of this month.
"We believe that Japanese Government's recent sanction is not an issue that will force us to change our prediction on this year's growth rate." said Minister Hong Nam-ki of Ministry of Economy and Finance (MOEF).
"Predictions made by the private sector and IBs (Investment Bank) are always lower than our prediction. However, our prediction is always closest to actual values." said Vice-Minister Bang Ki-seon of MOEF regarding the fact that South Korean Government's prediction is higher than that of the private sector and IBs. "While we make our prediction based on political will and supplementary budget, various tax reform support, and investment projects, private sector and IBs exclude political effects from their predictions." He also added that predicting that this year's economic growth rate will be less than 2% is little excessive although it is true that semiconductor industry is set to rebound later than South Korean Government's prediction.
South Korean Government presented its new prediction on an increase in number of employed people as 200,000 people on average per month that is more than its initial prediction (150,000). Its reasoning behind its new prediction is political effects on jobs and there has actually been an improvement recently regarding an increase in number of employed people. However, it is difficult to say that entire employment issue is being improved as there will be an increase number of short-term jobs for elderlies due to South Korean Government's political support.
Although it initially predicted that amount of exportation in 2019 will see a slight increase of 3.1%, it changed its prediction -5.0% after believing that a reduction will be inevitable. It also changed its prediction on the amount of current account surplus from $64 billion to $60.5 billion.
Although it included alternatives that might change current state of exportation to its measures, none of these alternatives stands out much.
Some of its main measures for promoting exports are additional funding of $6.41 billion (7.5 trillion KRW) for politically supported financial industries, operation of $2.14 billion (2.5 trillion KRW) investment promotion program for businesses specializing in exportation, increase in limit for export insurance, and refund of tariffs on raw materials for exports of small and medium businesses.
It also decided to actively provide support for improving competitiveness of basic industries such as development of domestic materials, parts, and instruments and expansion of production plants in South Korea. It is going to invest $855 million (1 trillion KRW) annually into development of 100 major materials, parts, and instruments and promote private investments. It is likely that this decision was made after considering current trade conflict between the U.S. and China and retaliation by Japanese Government.
It stated that it is planning to announce its measures to strengthen competitiveness in materials, parts, and instruments.
Staff Reporter Yoo, Seonil | ysi@etnews.com