Amount of new funds for this year's venture investment markets is estimated to be about $5.02 billion (5.4 trillion KRW) which is $930 million (1 trillion KRW) more than last year. Starting with first announcement for fund of funds on the 21st, $2.42 billion (2.6 trillion KRW) worth of innovative venture fund, growth ladder fund, and semiconductor growth fund will be distributed to promising businesses in each industry. South Korean Government is also going to modify legal systems simultaneously according to supply of biggest venture capital ever.
Ministry of SMEs and Startups (MSS) and Korea Venture Investment Corporation (KVIC) announced their investment business worth $575 million (618 billion KRW). Their goal is to organize a fund worth $1.08 billion (1.1659 trillion KRW) by seeing a budget invested by relevant organizations such as Ministry of Culture, Sports and Tourism (MSCT), Ministry of Health & Welfare (MOHW), and Korean Intellectual Property Office (KIPO) including MSS as priming water. They are planning to select operators in April and finish organizing their fund by July for $930 million (1 trillion KRW) out of target amount excluding private propositions.
Starting with fund of funds, big investors such as Korea Growth Investment Corp. (KGIC) and Korea Development Bank (KDB) in venture investment markets are also going to start investing sometime during this month. KGIC and KDB are going to invest $279 million (300 billion KRW) and $558 million (600 billion KRW) respectively. KDB is going to finish organizing a fund that will be worth $1.86 billion (2 trillion KRW) due to its characteristic of focusing its investment into growth of venture companies. KGIC is also likely to organize a fund worth about $1.86 billion whenever it finalizes organization of restructuring fund.
It is likely that amount of venture funds for this year will be the largest ever due to big investors. Just by calculating amount of funds planned by major investment organizations, amount of funds comes out to be $4.84 billion (5.2 trillion KRW). Amount of investments expected by some of major departments such as MSS, Ministry of Education (ME), and KIPO that are not going to make investments during the first half of this year is about $93 million (100 billion KRW). There is still enough room to add at least $186 million (200 billion KRW) of additional fund. Amount of this year's venture fund is expected to easily surpass amount of last year's venture fund which was $4.13 billion (4.443 trillion KRW).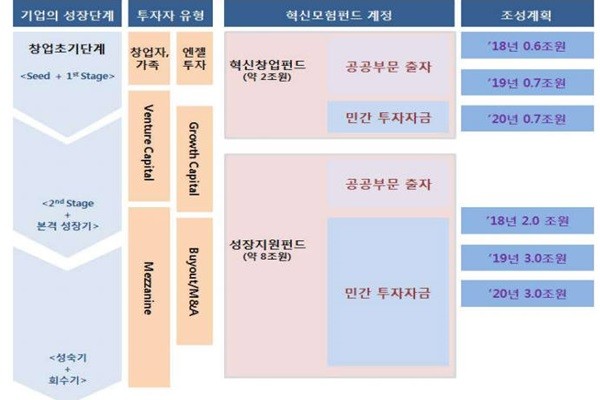 "It is expected that we are going to form a largest amount of fund this year followed by last year." said Executive Director Kim Hyung-soo of Korea Venture Capital Association. "Performance of investments from last month was also improved drastically compared to January of last year as level of expectations has gotten bigger and as room where private companies can carry out their tasks has become wider due to establishment of Venture Investment Promotion Act."
Venture funds are also becoming more diverse. Besides innovative venture fund worth $2.42 billion (2.6 trillion KRW), about half of investments for public fields is organized based on industries and stages of growth.
Goals of innovative venture funds are early phases of venture companies and innovative growth. Total of $9.3 billion of innovative venture funds will be invested until 2020. Job creation fund, foreign ties fund, and animation and character funds that are invested by MCST will be worth about $195 million (210 billion KRW). Funds for small and medium companies and venture companies in each industry will be formed sometime during July by KIPO ($26.3 million (28.3 billion KRW)), MOHW ($27.9 million (30 billion KRW)), Ministry of Environment ($24.2 million (26 billion KRW)), and Ministry of Employment and Labor ($10 million (10.8 billion KRW)).
There are also going to be many funds for special purposes that are there to diversify venture investment markets. KGIC is going to announce its plans to invest into special funds that cannot be supplemented by current venture funds such as scale-up fund, semiconductor growth fund, structure innovative fund, and society investment fund. It is also heard that KDB is currently designing a fund that can diversify exit markets that are concentrated with IPOs (Initial Public Offering).
Besides public fund investments, South Korean Government is also busy with preparing legal systems that will induce changes to private venture investment markets.
MSS is going to restructure regulations regarding fund of funds so that it can create KVF (Korea Venture Federation) with just private funds and without fund of funds investment. It is doing so in order to create effects from policies by end of this year before Venture Investment Promotion Act is legislated. It is also going to introduce indexes that can evaluate performance of societies so that social impact fund investment can take place smoothly.
"This year will be the first year to operate investment methods that are different from past methods." said Section Chief Park Yong-soon of MSS' Venture Investment Section. "Venture investment will contribute in creating jobs for venture companies and promoting new industries."
Staff Reporter Ryu, Geunil | ryuryu@etnews.com