South Korean Government and financial authorities maintained its position of not seeing virtual money such as Bitcoin as 'financial transaction' and defined recent increase in price of virtual money as 'Ponzi (robbing someone to pay other person)'. President Moon Jae-in ordered related departments to strictly manage virtual money that is illegally distributed and to prepare corresponding measures.
President Moon presided a meeting with chiefs and advisers, which was held at The Blue House on the 11th, and examined trend of virtual money and direction of possible measures. At a luncheon meeting with Prime Minister Lee Nak-yeon which also happened on the same day, President Moon discussed with him regarding virtual money and emphasized preparation of possible measures.
"Be aware of current situations regarding virtual money and pay careful attention towards developments that follow and prepare necessary measures while strictly managing illegal acts." said President Moon.
"As of right now, we are focused on minimizing any side effects." said Chairman Choi Jong-gu of Financial Services Commission (FSC) at an end-of-the-year seminar for press corps regarding direction of regulations on Bitcoin. "We are absolutely not going to approve stock exchange for virtual money or introduce futures trading."
"We do not see Bitcoin transactions as financial transactions." said Chairman Choi. He pointed out that many problems can be derived when Bitcoin transactions are recognized as financial transactions.
Chairman Choi reconfirmed that financial authorities cannot approve Bitcoin transactions as formal transactions since starts of derivatives transactions that started from CBOE (Chicago Board Oprtions Exchange) on the 10th (U.S. time) are different from the U.S. and South Korea.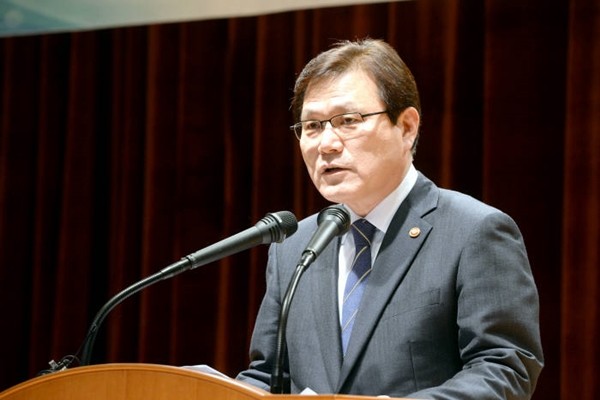 "Futures trading cannot happen of course. We studied to see if there are any positive economic effects if futures trading of Bitcoin is approved." said Chairman Choi. "However we do not see any use of futures trading as of now and we only see side effects."
Chairman Choi stated that South Korean Government should be careful in revealing regulations but follow regulations at the same time since no one knows the future. He also added that Ministry of Justice needs to disclose its position on regulations and have legal basis.
"Recently the vice-chairman of FSC met with officials from South Korea, Japan, and China." said Chairman Choi. "Their governments are also very hesitant on making Bitcoin official or approving it."
"Bigger regulations regarding virtual money need to be handled by Ministry of Justice." said Vice-Chairman Kim Yong-beom. "We have decided to prepare proposals on regulations after analyzing legal basis and virtual money's effects on markets."
"FSC usually focuses on preventing financial companies within a system from jumping into virtual money transactions." said Vice-Chairman Kim. "Although things may change in the future when virtual money markets become quiet, as of now we are going to prevent financial companies from handling transactions related to virtual money."
"Increase in price of virtual money is only due to expectations that a next person will accept my proposal and virtual money is completely a Ponzi." said Vice-Chairman Kim.
Staff Reporter Kim, Myunghee | noprint@etnews.com & Staff Reporter Jung, Youngil | jung01@etnews.com