NCsoft is set to make $895 million (1 trillion KRW) in accumulated sales for the first time since its founding. It is understood that it made about $448 million (500 billion KRW) in sales just from 'Lineage M'.
NCsoft made an announcement on the 9th that it made $651 million (727.3 billion KRW) in sales, $293 million (327.8 billion KRW) in operating profit, and $246 million (275.1 billion KRW) in net profit during this third quarter.
Compared to third quarter of last year, its sales, operating profit, and net profit increased by 234%, 403%, and 474% respectively. Compared to second quarter of this year, they increased by 181%, 773%, and 792% respectively.
Looking at its third quarter's sales per region, it made $565 million (631 billion KRW) in South Korea, $28.9 million (32.3 billion KRW) in North America and Europe, $9.31 million (10.4 billion KRW) in Japan, and $8.86 million (9.9 billion KRW) in Taiwan. It made $39 million (43.6 billion KRW) from loyalty sales.
It made $31.7 million (35.4 billion KRW) from Lineage, $14 million (15.6 billion KRW) from Lineage 2, $9.13 million (10.2 billion KRW) from Aion, $34 million (38 billion KRW) from Blade & Soul, and $18 million (20.1 billion KRW) from Guild War 2.
It is calculated that its sales from mobile games were $493 million (551 billion KRW). NCsoft is currently operating mobile games such as 'Lineage Red Knights' and 'Lineage M' and most of its mobile game sales came from Lineage M.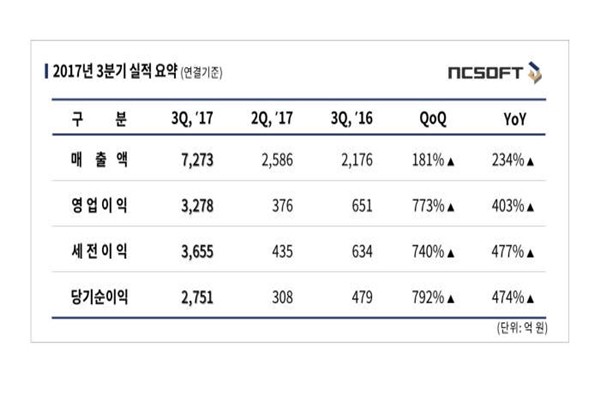 Compared to second quarter, its mobile game sales and loyalty sales increased by 488% and 21% respectively. Its sales from Guild War 2 increased by 49% and 32% compared to second quarter and third quarter of last year respectively due to a release of its second expansion pack called 'Path of Fire'.
"Excluding early stages when sales were at the highest, we do not see any drop in sales from Lineage M in the past month or two." said CFO Yoon Jae-soo of NCsoft. "It seems that indicators are coming back after the siege warfare update." He also added that NCsoft is looking into right timing of adding contents to trades between individuals and what kind of contents to add.
Exportation of Lineage M will be centered on Taiwan. "Lineage M can be successful in areas where there are people who had played original PC version of Lineage." said CFO Yoon. "Other new games besides Lineage M will target global markets from the beginning so that people can play them without unfamiliarity." Regarding concerns about legal regulations on random items reward, he made it clear that voluntary regulations have higher priority than legal regulations.
"We are providing proper information to our customers so that they can make proper payment decisions." said CFO Yoon. "We are currently talking with South Korean Government, our customers, and industries through various channels in order to see what kind of effects are coming from self-purification efforts made by industries."
NCsoft introduced new sequels such as 'Project TL', 'Lineage 2M', 'Aion Tempest', and 'Blade & Soul 2' at its presentation that was held on the 7th and it is planning to introduce them sequentially starting from next year.
Staff Reporter Kim, Siso | siso@etnews.com