A small and medium enterprise from South Korea has developed the world's first "cobalt-free 5V" cathode materials that does not use cobalt, which is a key material for batteries, and it has already secured customers and is facing verification for marketability.
Lithium-ion battery that goes into electric vehicle batteries often uses cathode materials that are comprised of nickel, cobalt, and manganese. Out of these three minerals, cobalt is the most expensive and the most difficult mineral to obtain. As a result, automotive manufacturers such as Tesla and GM and battery cell makers such as LG chem and SK Innovation are focusing on developing cathode materials that use less cobalt.
TopBattery (CEO Roh Whan-jin), a company that specializes in electric vehicle battery, announced on Sunday that it has developed "manganese-based high-voltage 5V cathode materials" that are competitive in price despite not using cobalt and have high energy density and level of safety and signed a supply contract with a battery cell maker called EUROCELL. EUROCELL is planning to supply its batteries based on TopBattery's cathode materials for delivery electric scooters first starting from the end of this year.
Cathode materials for lithium-ion battery are mostly made up of nickel (N), cobalt (C), and manganese (M). The ratio for these minerals can be 6 to 2 to 2 respectively or 8 to 1 to 1. Although the global battery industry has been trying to lower the cobalt content and raise the nickel content to more than 80%, its R&D process has faced limitations such as battery's lifespan and safety level.
However, TopBattery's cathode materials raise the manganese content to 75% while lowering the nickel content to 25% due to the manganese-based 5V spinel structure.
Also, it has 135 mAh/g, average discharge voltage of 4.7V, and high level of safety. In addition, its productivity is excellent due to its simple manufacturing process that does not have to go through a complicated precursor process where waste water can occur.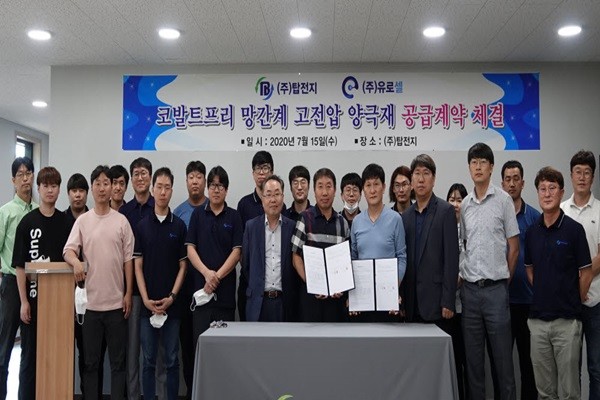 "5V spinel based on manganese and nickel is a next-generation high-voltage active material that had only existed in theories and is useful for electric vehicle battery that has many series-parallel circuits." said Professor Park Cheol-wan of Seojeong University. "If it is combined with electrolyte and additives that are used for high voltage, it will be highly competitive as it will be cobalt free and based on low nickel content."
The industry believes that the development by TopBattery is meaningful as the company has also secured customers for its cathode materials.
"After developing the third-generation lithium iron phosphate battery that can be charged and discharged in just 15 minutes in the past, we have developed the world's first manganese-based 5V cathode materials and also signed a supply contact for the materials." said CEO Roh Whan-jin of TopBattery. "After we establish a credible portfolio with EUROCELL, we will gradually expand our customers to other top domestic and foreign battery cell makers."
According to London Metal Exchange (LME), the spot price for cobalt per ton in June was $29,000 that is 2.5 times and 25 times higher than that of nickel and manganese respectively. According to a research done by a research team led by Professor Elsa Olivetti of MIT, it is estimated that global demands and outputs for cobalt in 2030 will be between 240,000 and 430,000 tons and between 320,000 and 460,000 tons respectively. On top of that, there will be a serious supply issue of cobalt from now on as Democratic Republic of Congo, which is responsible for 60% of global cobalt supplies, started to strengthen its monopolistic capitalism on the global cobalt market starting from the beginning of this year. Democratic Republic of Congo was often criticized for exploitation of child labor at its cobalt mines and it had faced restrictions on international transactions as cobalt was designated as a "conflict mineral".
Staff Reporter Park, Taejoon | gaius@etnews.com