By having World Nuclear and Radiation Expo and International Nuclear Energy Korea 2020 that are the two biggest exhibitions for the nuclear power industry in Busan at the same time and taking it as an opportunity, South Korea's nuclear power industry is looking to collaborate in order to develop the nuclear power plant market into a safer market and to develop the nuclear decommissioning market.
"We are very fortunate to hold the industry's two biggest exhibitions at the same time despite the COVID-19 crisis and we are able to secure opportunities for collaboration as a result." said Jung Jae-hoon (chairman of Korea Atomic Industrial Forum (KAIF) and president of Korea Hydro & Nuclear Power Co., Ltd. (KHNP)) who is the chairman of World Nuclear and Radiation Expo at the opening ceremony of World Nuclear and Radiation Expo and International Nuclear Energy Korea 2020 that were held at BEXCO on Wednesday. "We are going to utilize radiation to build a safer industry and we are also going to converge various technologies for the safety of the industry and continue to support the industry's continuous growth."
"Radiation is getting more spotlight due to COVID-19 and related markets such as medical imaging and nondestructive inspection are also growing. There is also active development of technologies that can overcome the virus through radiation." said Chairman Jung. "Through collaboration between other industries such as nuclear power and radiation, our committee and forum will provide necessary support in order to create new markets."
KAIF is going to strengthen the nuclear safety industry and establish a collaborative system between major companies and small and medium enterprises within the nuclear decommissioning industry. It prepared a gallery for mutual growth on this day and introduced successful outcomes of collaboration between small and medium enterprises and major companies and public companies within the nuclear power field.
KHNP is going to open doors so that various small and medium enterprises can jump into markets for equipment related to nuclear power plant and nuclear decommissioning. On this day, it prepared a "purchase consultation for power and nuclear power plant equipment" with Korea Electric Power Corporation (KEPCO) and local nuclear power companies.
Doosan Heavy Industries & Construction is going to establish a production collaboration network between major companies and small and medium enterprises for its "spent fuel cask". It is going to look for companies that will provide parts for spent fuel cask and induce small and medium enterprises that focus on automotive and mechanical parts and marine equipment located in the southeast part of the country where most of the nation's nuclear power plants are located to convert their types of business into nuclear decommissioning.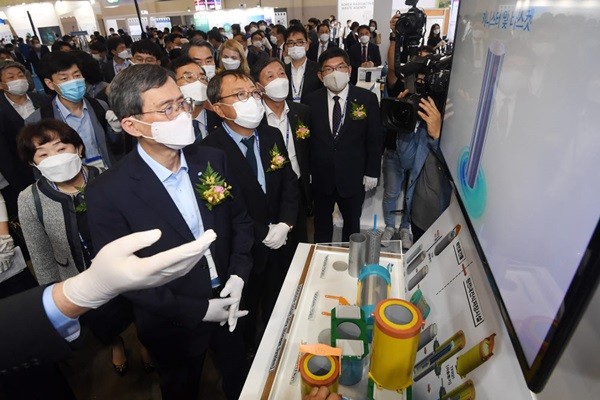 Ten radiation-related companies that represent South Korea participated in World Nuclear and Radiation Expo and introduced their latest products and technologies applied with radiation.
Nuclear Engineering (CEO Kim Sung-rae) displayed and introduced technologies such as radiation characteristic analysis and safety interpretation and radiation shield cell.
Sunkwang T&S (CEO Cho Joon-ho) displayed radiation management services, medical equipment and radiation protection facility, and radiation industrial machine manufacturing technologies. Hana Nuclear Power Engineering (CEO Jeon Joon) displayed results from its researches on radiation safety management and radiation protection and radiation.
Elim-Global (CEO Lee Joon-seok) displayed active carbon fiber filter (WAC Filter) for removing radioactive gas, ion-exchange device (ELIX) for separating and concentrating boron, and FEDI (Frectional Electrodeionization) for separating and removing radioactive nuclide.
U2NG (CEO Jang Kyung-seok) displayed and introduced radiation-controlled area access control system while UniTeko (CEO Son In-shin) and Hanil Nuclear displayed radiation measuring device and personal dosimetry measuring service respectively.
"The nuclear power generation industry needs to fulfill its duty of providing power that becomes the foundation of our people's lives by being unwavering in any situation." said Chairman Jung. "We need to create opportunities for more companies and talented individuals to fulfill their dreams within the nuclear power and radiation fields."
Staff Reporter Lim Dongsik | dslim@etnews.com & Staff Reporter Byun, Sanggeun | sgbyun@etnews.com