A private and public alliance has been established in order to help South Korea grab an upper hand in 5G mobile network technology "Open RAN" that is considered as a next open access network. The alliance's main goal is to develop open standards for 5G base station linkage with a goal of being less dependent on a particular network equipment. It is expected to lead development of 5G base station technology centered on software (SW) and act as a bridgehead for small and medium enterprises to enter the global 5G market.
5G Forum held an inauguration ceremony for the "open 5G fronthaul working group (WG)" on June 23rd and announced its plan to develop Open RAN technology and to vitalize Open RAN ecosystem. This is the first time where an Open RAN private and public alliance is established in South Korea. The WG is going to have 23 companies and government organizations such as SK Telecom, KT, LG Uplus, Samsung Electronics, Ericsson-LG, Nokia, DASAN Networks, Electronics and Telecommunications Research Institute (ETRI), Institute for Information & communication Technology Planning & evaluation (IITP), National Information Society Agency (NIA), and Korea Association of Network Industries (KANI) participating.
The WG is going to develop and commercialize "open fronthaul interface", which is being developed by a global Open RAN standardization organization called the O-RAN Alliance, according to circumstances in South Korea and create an ecosystem as soon as possible. Fronthaul indicates all sorts of technologies and standards necessary for the connection between RU (Radio Unit) that sends data using antennas and DU (Distributed Unit) that processes data centrally.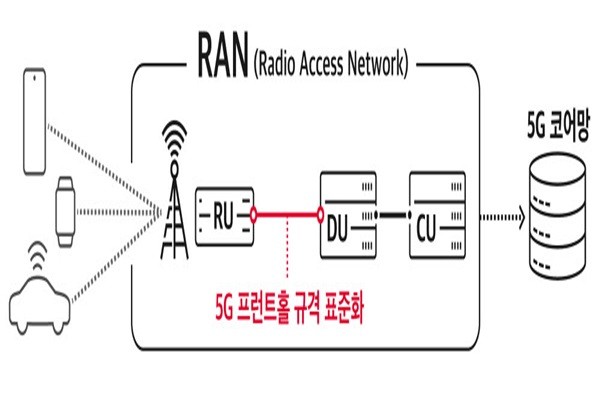 When 5G fronthaul is created using open standards, cost of constructing 5G infrastructures can be reduced as one can select and utilize DUs and RUs from various manufacturers according to demands. It will also be possible for small and medium enterprises to enter the RU field as the RU field is similar to that of base station and repeater. Until 4G LTE, there has been a constant controversy surrounding increased financial burden for wireless telecommunications operators and increased network inefficiency as top DU and RU manufacturers had utilized their own interfaces.
The WG is also going to work on long-term evolution of the Open RAN technology. There has been a significant process on agreement and technology standardization between multinational companies regarding openness and standardization of 5G fronthaul. However, the Open RAN technology separates SW and hardware HW) of base station in a long term and implements a complete open base station architecture in addition to opening the fronthaul technology. The WG is planning to continue to participate in discussions regarding evolution of the fronthaul technology and develop fronthaul technologies at the same time.
In addition to O-RAN Alliance, there are other Open RAN alliances such as Telecom Infra Project and Open RAN Policy Coalition within the global market. Including traditional network companies, multinational companies such as Google, Facebook, and Intel are also participating in these alliances and are showing interests in the Open RAN technology. By establishing the WG, South Korea has secured a collaborative system that will help South Korea's technologies in telecommunications be utilized within the global Open RAN market and a window for communication. Kim Dong-koo, who is the chairman of 5G Forum's executive committee, expressed his hope by saying that 5G fronthaul will be a key element that will supply and spread convergent services between 5G and other industries.
Staff Reporter Park, Jisung | jisung@etnews.com