SK Broadband is going to set up an international submarine cable gateway in Busan. This gateway will act as a hub that will connect the international submarine cable and South Korea's telecommunications networks. It is expected that SK Broadband will help improve quality of foreign networks and gain an upper hand in attracting global telecommunications companies' submarine cable lines by setting up a gateway in Busan.
It was confirmed that SK Broadband started the construction in Centum City, Busan with a goal of opening up an international submarine cable gateway in the second half of 2021.
This is the first time SK Broadband is constructing a gateway with its own equipment after renting and participating in shares of an international submarine cable. Until now, SK Broadband has leased and utilized KT's equipment as a gateway for submarine cable. By constructing its own gateway, it will be able to send data overseas and expand its leasing business by attracting global businesses to its gateway.
SK Broadband's gateway for submarine cable will be 9Tbps. This is a size that can have 360,000 members view UHD videos at the same time and send 280 4GB movies in just one second. It will have large-scale servers, routers, optical cables, and uninterruptible power supply systems (UPS) and it will be able to connect and send data from companies and consumers overseas without any interruption. SK Broadband can provide various B2B (Business to Business) service models by connecting IDC (Internet Data Center) in South Korea with its gateway and its gateway with foreign submarine cable networks.
In 2018, SK Broadband invested in shares of "SJC2 consortium's submarine cable project" that connects 11 locations of 9 different countries that include South Korea, China, Japan, Singapore, Thailand and Cambodia. Multinational companies such as China-based China Mobile, Japan-based KDDI, Singapore-based Singtel, and Facebook are participating in the consortium.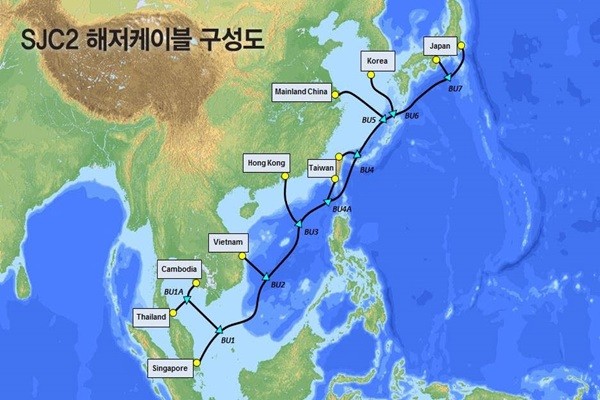 SK Broadband is looking to raise the quality of its foreign network primarily by constructing a gateway. It is expected that foreign data traffic will shoot up sharply due to increased large-scale services such as UHD and COVID-19. Not only SK Broadband will be able to extend its foreign network without any issue based on its own equipment and facilities, it can also participate in more cooperation with other submarine cable providers.
It will be interesting to see if constructing a gateway for submarine cable will be an opportunity for SK Broadband to vitalize competitions within the global submarine cable market in a long term. KT is the top telecommunications company in South Korea when it comes to submarine cable line and gateway and it basically dominates the market that targets both domestic and foreign telecommunications companies through its gateways that have 100Tbps in total capacity.
LG Uplus and Sejong Telecom currently operate smaller gateways compared to KT. When SK Broadband constructs its large-scaled gateway, it will be able to secure a base to compete with others when it comes to connecting and leasing gateway to foreign companies.
South Korea is appealing for global submarine cable providers due to its enormous size of data traffic. An American investment company called The Rich acquired entire shares related to submarine cable from Taihan Electric Wire Co., Ltd and established South Korea's first key telecommunications service provider called Taiahn Rich that is completely based on foreign shares. AT&T also established its subsidiary in South Korea for its submarine cable business while other multinational telecommunications companies such as China Mobile manage their submarine cable businesses in South Korea.
"We will be able to have our own large-scaled gateway for submarine cable soon." said a spokesperson for SK Broadband. "Our position and role within the domestic and foreign submarine cable markets will be bigger once we have our own gateway."
Staff Reporter Park, Jisung | jisung@etnews.com