LG Uplus became the first South Korean wireless carrier to demonstrate a 5G SA-based (Standalone) voice call service method called Vo5G (Voice over 5G) in a commercial network.
Prior to this demonstration, LG Uplus succeeded in testing data transmission and reception based on 5G SA. Successful demonstration of Vo5G service indicates that LG Uplus is ready to provide stable and high-quality 5G service before 5G SA-based mobile devices are launched.
Current 5G networks are based on 5G NSA (Non-Standalone) mode that partially uses LTE network. As a result, current 5G smartphones use LTE networks for voice calls.
On the other hand, 5G SA mode can use 5G network and LTE network at the same time. In order to make a voice call, a 5G mobile device will either use EPS FB (Evolved Packet System Fallback) that makes a call after converting the network to LTE network or Vo5G service that allows a call to be made through a 5G network.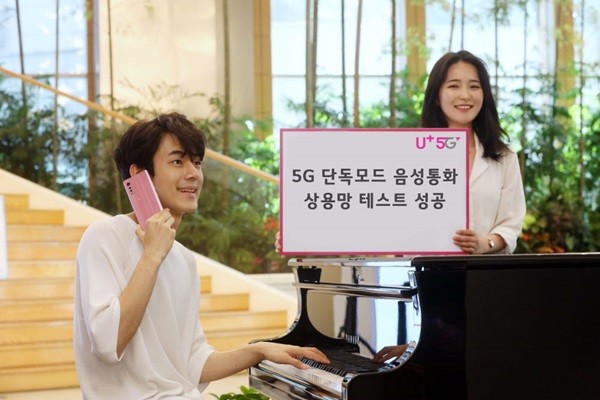 While EPS FB can provide a stable voice call service utilizing current LTE network, it can experience a decline in quality as call connection can be longer compared to Vo5G.
Vo5G on the other hand provides a stable voice call service by using data service of a stable 5G network and a faster call connection. However, it can experience a decline in quality in areas where an LTE network and a 5G network meet.
LG Uplus is planning to verify EPS FB and Vo5G service in a commercial network and choose a method that can provide a high-quality 5G SA-based voice call service.
"We succeeded in securing key technologies before 5G SA mode is commercialized by testing 5G SA-based voice call technologies in a commercial network ." said Park Song-cheol who is the executive director of LG Uplus' NEW Technology Operations Group. "We are going to put all of our efforts into preparing for commercialization of 5G SA mode.
Staff Reporter Park, Jisung | jisung@etnews.com