Hyundai Motor Company is getting ready to mount batteries manufactured by Samsung on its vehicles.
It was confirmed that Hyundai Motor Company recently completed driving tests in order to test the performance of Samsung's batteries. This will be the first time when Hyundai Motor Group is using batteries from Samsung for its vehicles.
Although this matter begun even before Vice-Chairman Lee Jae-yong of Samsung Electronics and Executive Vice-Chairman Chung Eui-sun of Hyundai Motor Group met recently, it is expected that the matter has gained momentum since the meeting between the two executives.
According to the industry, Hyundai Motor Company is planning to use Samsung SDI's lithium-ion rectangular-shaped battery cell that is one of Samsung SDI's main products. Both sides already completed reviewing necessary technologies and driving tests. It is heard that Samsung SDI's batteries will be used for Hyundai's fuel cell electric vehicles (FCEV) that are expected to be launched in 2 to 3 years.
Fuel cell battery is the key component of a FCEV. Although the battery uses fuel from a hydrogen tank in order to generate power, a secondary battery with a capacity around 2 to 3 kWh will be used since the battery is based on an electric motor. This capacity is significantly smaller than that of a common BEV (Battery Electric Vehicle) that is between 40 and 100 kWh. However, the market's forecast is bright as China and European countries are utilizing FCEV mainly for long-distance commercial vehicles such as truck and bus.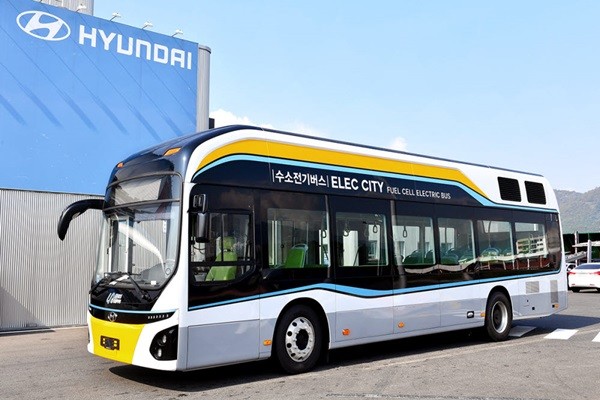 It is heard that Hyundai Motor Group is also looking into using Samsung SDI's battery for Kia Motors' next PHEV (Plug-in Hybrid EV) model. Although the chance of Kia Motors mounting Samsung SDI's batteries on its PHEV models is low as Hyundai Motor Group has already done a significant portion of examination on products from other battery manufacturers, the atmosphere has changed a lot compared to the past.
Hyundai Motor Group will use batteries from LG Chem and SK Innovation, which have been its customers, for its public electric models. Based on these decisions, it can be interpreted that Samsung and Hyundai Motor Company will gradually establish trust between the two companies by mounting Samsung's batteries on Hyundai's vehicles that can be mounted with batteries with low capacities.
"After Hyundai Motor Company recently tested Samsung SDI's rectangular-shaped battery cell, it is likely that Hyundai will use Samsung's batteries for its commercial electric vehicles that will be launched in the near future." said a representative for the battery industry. "Although Hyundai is also looking into using Samsung's batteries for its other models, a possibility of Hyundai actually using them for its other models is not high yet."
"Although it is true that Samsung SDI and Hyundai Motor Company recently completed driving tests in order to check the performance of Samsung SDI's batteries, nothing has been finalized yet." said a representative for Hyundai Motor Group.
Multinational automotive makers are starting to increase numbers of their battery suppliers as the recent trend asks for diversification of electric vehicles. While Hyundai Motor Group is working with LG Chem, SK Innovation, and CATL, Volkswagen Group is working with the three major battery makers in South Korea as well as Northvolt and CATL.
A representative for Samsung SDI stated that the company cannot mention any information related to its customers.
Meanwhile, Vice-Chairman Lee of Samsung Electronics and Executive Vice-Chairman Chung of Hyundai Motor Group met for the first time on May 13 in order to discuss about next-generation batteries. Executive Vice-Chairman Chung visited Samsung SDI's to inspect Samsung SDI's battery technologies and he was greeted by Vice-Chairman Lee personally.
Staff Reporter Park, Taejoon | gaius@etnews.com