As many countries are starting to invest in 5G mobile network on full-scale, South Korea's 5G equipment companies starting to benefit from it. It is expected that they will continue to enjoy positive performances of their businesses for a while as major countries selected 5G as one of their key investments.
As the second quarter began, South Korean 5G equipment companies have positioned themselves to supply their products to the South Korean market as well as the Chinese market.
KMW, a South Korean base station equipment company, received a PO (Purchase Order) antenna filters from ZTE and it has gone into production. This PO is the result of China Mobile announcing its bid for the construction of 230,000 5G base stations.
China Mobile allocated 57%, 29%, and 12% to Huawei, ZTE, and Ericsson respectively based on the total amount of the bid which is $5.66 billion (7 trillion KRW). It is expected that KMW will supply significant amount of supplies of filters to ZTE that has a partnership with ZTE.
Ace Technologies is discussing with Ericsson regarding supply of radio unit (RU) system and others. In addition to 8 Chinese telecommunications equipment companies, Ace Technologies is one of key partners of Ericsson. There is a high chance that it will start to supply more of its products as amounts of supplies from Chinese telecommunications equipment companies to Huawei are starting to increase.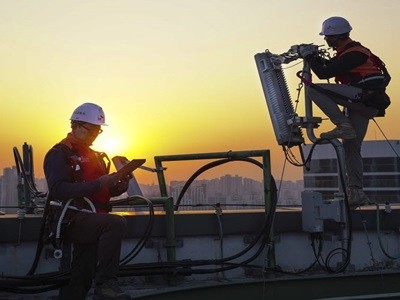 RFHIC, which manufacturers telecommunications transistors, is also expected to benefit from the recent trend of countries investing in 5G. Huawei was responsible for 53% of its sales in 2019. Considering the fact that Huawei owns half of the 5G base station market in China, it is almost certain RFHIC's performance will start to improve. Because it is expected that the global telecommunications transistor market will be worth $750 million at the maximum, RFHIC is also looking to diversify its customers.
It is expected that number of orders for South Korean companies will start to increase as China Telecom is planning to announce the result of its bid soon.
The fact that operation rates of Chinese plants are not at 100% due to COVID-19 is another positive factor for South Korean companies. There is a good chance that South Korean companies will receive more orders before operation rates of Chinese plants come back to normal.
HFR currently supplies 5G in-building optical repeaters to SK Telecom. In addition to fronthaul system, which is HFR's main product, there is a chance that repeater will establish itself as a key product. It is estimated that HFR will make about $16.2 million (20 billion KRW) from sales of repeaters this year which is 4 times higher than what it made last year.
Seojin Telecom and OE Solutions are also enjoying this golden opportunity. They are expected to enjoy trickle-down effect as Samsung Electronics, which is their main customer, are making investments in 5G plants and equipment in Japan and the U.S. this year.
Wired equipment makers are also expected to receive orders. As the amount of traffic is surging globally due to expansion of telecommuting and tele-education, it is expected that there will be more investments in network.
"5G investments are starting to take place on full-scale throughout the world as the second quarter has begun." said Kim Hong-shik who is a researcher from Hana Financial Investment. "As 5G has emerged as a key technology for non-face-to-face methods of education and work due to COVID-19, this trend will result in a fast improvement in performance of South Korean telecommunications equipment companies."
Staff Reporter Choi, Ho | snoop@etnews.com