Samsung Electronics is set to mass-produce the industry's first 16GB smartphone DRAMs that is currently the largest capacity for a smartphone DRAM. This DRAM provides a fast processing speed that can process 9 full HD movies, which are equivalent to 44GB of data, in just one second.
As a result, this DRAM will allow one to enjoy a high-resolution game that is much better than current PC games on his or her smartphone. Samsung Electronics has clearly confirmed its "super gap" strategy when it comes to its technology in mobile DRAM by developing the industry's first 12GB DRAM in July of 2019 and the industry's first 16GB DRAM this month.
Samsung Electronics stated that it will be mass-producing the industry's first "16GB LPDDR5 DRAM" that will be used for smartphones.
This DRAM is currently used for Samsung Electronics' premium smartphone "Galaxy S20 Ultra" that was released this month.
DRAM is a memory semiconductor that quickly stores and processes information that is computed by CPU and its role is becoming more important for smartphones. In order to implement contents with large amount of data at a fast speed using 5G network, smartphone DRAM needs to be equipped with high specifications that are comparable to that of PC DRAM.
Samsung Electronics explained that its newest DRAM will be able to raise the level of information processing speed of smartphone to a similar level of PC's information processing speed and provides overwhelming performance for video processing and high-resolution game. When a smartphone is equipped with a 16GB DRAM, its capacity will be double that of laptop PC and gaming PC that typically use 8GB DRAM.
"Our 16GB DRAM will assist high-resolution games to be played at a faster response speed on a smartphone than a PC." said a representative for Samsung Electronics.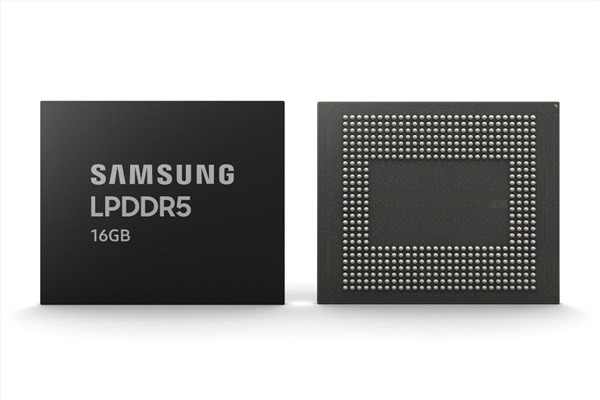 Another advantage of Samsung Electronics' 16GB DRAM is that it has faster information transmission speed as it is applied with a new DRAM standard called LPDDR5. Compared to LPDDR4X standard that is applied on mobile DRAMs for current high-end smartphones, LPDDR5 implements speed of 5,500Mb/s that is 1.3 times faster. 16GB LPDDR5 DRAM consumes 20% less power while it has drastically improved capacity and speed.
"With our newest DRAM, we have a lineup of LPDDR5 8GB, 12GB, and 16GB mobile DRAMs that is the first in the industry." said the same representative for Samsung Electronics. "As a result, we will be able to provide steady supplies of various DRAMs to our customers."
Samsung Electronics is currently producing its 16GB DRAM from its latest semiconductor production line located in Pyeongtaek campus.
It is planning to mass-produce 16Gb LPDDR DRAMs through its Gen. 3 10-nm (1z) process according to the development of an AP (Application Processor) that will be operated at 6,400Mbps. By doing so, it is going to actively target DRAM markets for flagship smartphone, PC, and car. Also, it is going to look into applying EUV (Extreme Ultraviolet) process to its memory production.
"We are going to respond to demands from our global customers without any setback by providing them with a new lineup." said Vice-President Choi Cheol of Samsung Electronics Memory Business Department.
Staff Reporter Kang, Hyeryung | kang@etnews.com