KH Chemicals is pushing for commercialization of 'CAST (Carbon Nanotube Addition Surface Treatment) with Japanese companies based on South Korea's only SWCNT (Single Walled Carbon Nanotube) synthesis technology.
KH Chemicals held 'CAST Synthesis Technology Seminar' at KOEX on the 10th and stated that it would be pushing for a project that will commercialize CAST technology along with Yamaichi Special Steel and Meijo University.
KH Chemicals was established in 2001 by a married couple of Technical Director Kim Young-nam who majored in chemical catalysis at POSTECH (Pohang University of Science and Technology) and Hong Eun-hwa who has a Doctor's degree from POSTECH and is an expert in materials. KH Chemicals is the only company in the world that has a facility that can mass-produce SWCNTs through CVD (Chemical Vapor Deposition) process continuously based on its own technologies. Based on its knowhow in mass-producing SWCNTs with uniformed quality and dualized catalyst synthesis and CNT synthesis technologies, it currently produces 1 ton of SWCNTs annually.
CNT has excellent structural, electrical, chemical, and thermal properties and it is seen as a fundamental material that can be applied to almost any industry. SWCNT, which is made up of a single wall, has excellent properties compared to MWCNT (Multi-Walled CNT). KH Chemicals is working on commercializing SWCNT that can improve fast charging and discharging abilities, lifespan, and stability of lithium-ion battery. SWCNT is also used as an ESD (Electro Static Discharge) material to prevent various electronic parts from being damaged by static or dust.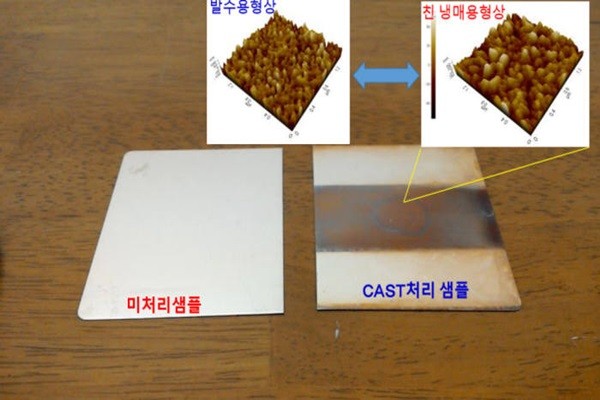 KH Chemicals is currently working with Yamaichi Special Steel and Meijo University to commercialize CAST technology by utilizing SWCNT. CAST technology is not just about coating SWCNT dispersion into metals such as aluminum, stainless, and copper, but it is a technology that densely packs SWCNTs on the surface of a metal vertically through anodizing process.
This technology can apply SWCNTs on the surface of a metal while developing nano-level bumps through simple wet process at the same time. As a result, it is possible to implement various conditions such as water repellency, heat dissipation, salinity resistance, corrosion resistance, and reduction of friction coefficient as current properties of a metal start to change. Because even small amount of SWCNT can make the most of properties such as thermal conduction and electrical conduction, unit cost can be much smaller compared to coating method that is currently used. Major areas where CAST technology can be applied currently are hydraulic cooling system and outdoor unit of an air conditioner.
"Because CAST technology provides water repellency and hydrophilic property through small bumps, it can prevent condensation from occurring in the outdoor unit of an air conditioner and help reduce energy and it can also be used in other areas such as frost removal, prevention of deep snow, and prevention of condensation." said a chief researcher of Yamaichi Special Steel. "Because thermal conduction is improved through CNT, CAST technology can also improve heat radiation property of car headlights and electronic boards."
Staff Reporter Jung, Hyeonjung | iam@etnews.com