South Korea's fifth liquefied natural gas (LNG) terminal has been constructed in Jeju followed by Pyeongtaek, Incheon, Tongyeong, and Samcheok. As a result, South Korea has officially started 'nationwide natural gas era' since it first started using natural gas in 1986.
Ministry of Trade, Industry and Energy (MOTIE) and Korea Gas Corporation (KOGAS) announced that it held a completion ceremony for the construction of LNG terminal in Jeju Island.
"Although Jeju had been the only metropolitan organization in South Korea that could not supply natural gas, we have now started nationwide natural gas era by constructing a LNG terminal in Jeju Island." said President Chae Hee-bong of KOGAS. "Jeju LNG Terminal will be an important turning point for the history of South Korea's gas industry and we are going to do our best so that people in Jeju Island can use natural gas at a reasonable price."
Jeju Island's Aewol Port was selected as a location for LNG storage tanks in 2007. KOGAS has invested $460 million (542.8 billion KRW) in order to complete the construction of Jeju LNG Terminal after 8 years of construction. Jeju LNG Terminal is comprised of two 45,000 kiloliters LNG storage tanks and 80.1km pipelines.
South Korea started supplying LNG for the purpose of power generation first after bringing in LNG from Indonesia in 1986 and it started supplying LNG as gas for metropolitan cities in the following year. Before Jeju LNG Terminal, Pyeongtaek LNG Terminal (23 tanks worth 3.36 million kiloliters), Incheon LNG Terminal (20 tanks worth 2.88 million kiloliters), Tongyeong (17 tanks worth 2.62 million kiloliters), and Samcheok (12 tanks worth 2.61 million kiloliters) were in operation. Jeju Island now has conditions to supply natural gas smoothly through the construction of Jeju LNG Terminal when it was the only city that could not receive natural gas out of 17 cities and provinces in South Korea.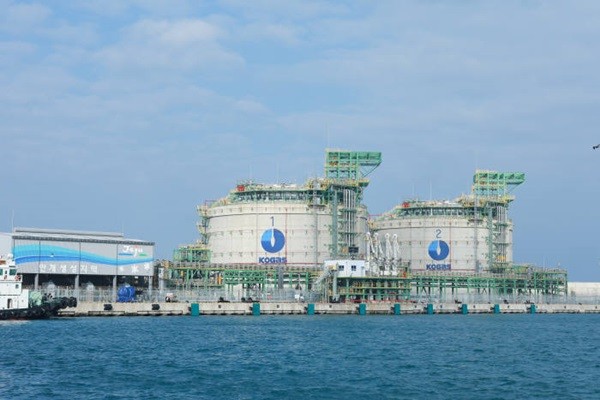 South Korean Governments expects that Jeju LNG Terminal will supply electricity throughout Jeju Island smoothly, improve energy welfare for the people in Jeju Island, and vitalize local economy.
Because Hallim Combined Cycle Power Plant (CCPP, 105MW), which started operating last month, and Jeju CCPP (240MW), and Namjeju CCPP (240MW) are also expected to start operating by 2021 at the latest, South Korean Government predicts that there will be increased capacity to supply power within Jeju Island and that there will be an improvement in independence of power within Jeju Island. These three CCPPs will prepare about 348,000 tons of natural gas for the purpose of power generation annually. Such amount corresponds to about 34% of entire amount of power generation in Jeju Island.
29,950 households in Jeju Island will receive 161,000 tons of gas annually starting from March of 2020 and they are expected to reduce energy consumption cost by receiving natural gas for family use that is cheaper than lamp oil and LPG (Liquefied Petroleum Gas). Lamp oil and LPG are 1.3 times and between 1.2 and 2 times more expensive than natural gas for family use respectively.
South Korean Government believes that operation of LNG terminal and CCPPs will also create jobs in Jeju Island and vitalize local economy. It predicts that there is a high chance that other relevant businesses such as LNG cold system and LNG bunkering will also be created as a result of Jeju LNG Terminal and three CCPPs.
"Natural gas will bring new energy to daily lives of the people in Jeju Island and local economy." said Minister Sung Yoon-mo of MOTIE. "We are going to actively support Jeju Island so that it can become a symbol for our future energy industries and an example for sustainable growth."
Meanwhile, South Korean Government awarded 31 people such as An Hyeong-cheol who is the formal head of KOGAS' Jeju Terminal Construction Group and has contributed to successful construction of Jeju LNG Terminal.
Staff Reporter Choi, Jaepil | jpchoi@etnews.com