A place where changes of future technologies by top South Korean and foreign materials companies are viewed and directions of development of industries through globalization of materials is set to be held.
'2019 Global Materials Tech Fair', which is held by the Electronic Times and Korea Evaluation Institute of Industrial Technology (KEIT) and sponsored by Ministry of Trade, Industry and Energy (MOTIE) will be held on the 12th in the conference room 401 of KOEX.
2019 Global Materials Tech Fair, which is the 7th time the fair is held, will be held under the topic 'Starting Point of Innovation of Materials Renaissance – Manufacturing Industry' and it will share successful strategies by top domestic and foreign materials companies and the direction of the latest technologies.
President Dominic Yang of Korea BASF's Electronic Materials Business Department, who will be first speaker, is going to introduce organic thin-film transistor, next-generation liquid crystal material and coating technology, color transformation material that can be applied to micro LED and OLED, the direction of packaging technology for next-generation semiconductor, and the direction of the development of inorganic lithography technology for EUV (Extreme Ultraviolet).
As regulations on carbon dioxide have gotten stricter, there have been more requests for sustainability within automotive, aviation, and aerospace industries. Manager Lee Seung-eun of Solvay Korea's Research Laboratory is going to introduce solutions for next-generation electric vehicle battery and silica for tires that reduces torque resistance up to 25% and saves fuel consumption by 7%.
New materials are becoming more important to construct micro-patterning and high-layer structures that have reached their limits within the field of memory semiconductor that is one of key elements for the Fourth Industrial Revolution. Vice-President Jung Sung-woong of SK Hynix's Future Technology Research Institute is going to talk about next-generation semiconductor materials and share key technology barriers within the semiconductor industry and the importance of materials that can overcome such barriers.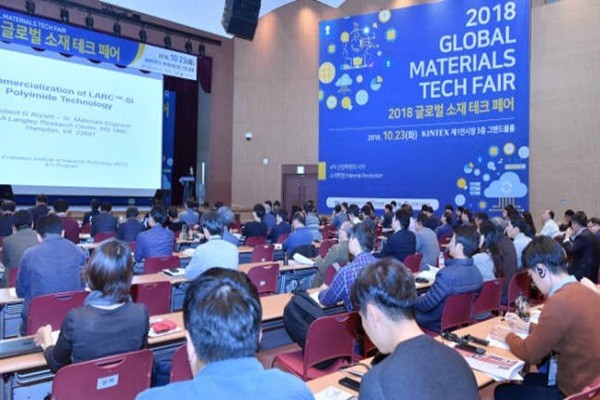 Director Kim Dae-kyu of Dupont Korea's Electronic Materials Business Department is going to talk about Dupont Korea's strategies on the next-generation display materials during the following seminar and introduce its OLED materials business and explain the progress of OLED technology as the next-generation display and the current development process of Dupont's OLED materials.
Lee Joong-kyu, who is the researcher within SKC responsible for performing R&D on films, is going to introduce the trend of SKC's special films such as mobile optical film, high-performance release film, and nanolaminate film and biodegradable PLA (Polylactic Acid) film. It seems that SKC's PCT (Polycyclohexylenedimethylene Terephthalate) film, which is the world's first, can be used in various areas such as materials that will help electric vehicles lighter due to its excellent characteristics such as heat-resisting property, chemical resistance, and low dielectric permittivity.
Yoon Chang-hoon, who is a senior researcher from Korea Institute of Industrial Technology, is going to introduce conductive polymer that is seen as the next-generation flexible transparent electrode material. It is expected to replace ITO (Indium Tin Oxide) material, which has the level of dependence on Japan reaching almost 70%, as it can increase conductivity by 1,000 fold by shooting 1,064nm infrared laser on a 'PEDOT:PSS' transparent electrode.
Executive Director Shin Dong-rok of Welcron is going to introduce WIF (Welcron Inorganic Fabric) material, which is developed by applying its inorganic particle coating technology to aramid material that is highly elastic and strong, in order to satisfy bulletproof and knife-proof functions.
This event will be an opportunity for various domestic and foreign companies, research institutes, and universities related to materials and components to strengthen their network and secure competitive edge globally. It is free to attend the event and one has to pre-register by the 11th if he or she desires to attend.
Staff Reporter Jung, Hyeonjung | iam@etnews.com