panaX etec, which is a South Korean secondary battery electrolyte manufacturer acquired by Dongwha Enterprise, is going to actively increase its production capacity starting with extension of its 2nd Factory in China.
panaX etec stated that it completed the construction of Electrolyte 2nd Factory in Tianjin on the 20th.
This plant, which is based on $21.7 million (26 billion KRW) investment and is constructed within a 29,000m2 land, will produce 10,000 tons of electrolytes annually. Through this plant, panaX etec is going to deal with Chinese battery manufacturers and Samsung SDI's plants in Tianjin and Xi'an.
Electrolyte is one of four key components of a secondary battery and it acts as a medium so that lithium ions can move freely between a cathode and an anode. As electric vehicle manufacturers are competing against one another for batteries with high energy density that increases mileage with single charge, electrolyte and additive play vital roles in extending stability and lifespan of a battery and improving the performance of a battery.
As secondary battery market is expected to grow from being worth $25.1 billion (30 trillion KRW) in 2019 to being worth $100 billion (120 trillion KRW) in 2025 due to increased demands for electric vehicles and ESS (Energy Storage System), electrolyte market is also expected to grow at the same time. According to a market research company called SNE Research, lithium-ion battery electrolyte market is estimated to grow at an annual rate of 33.2% on average.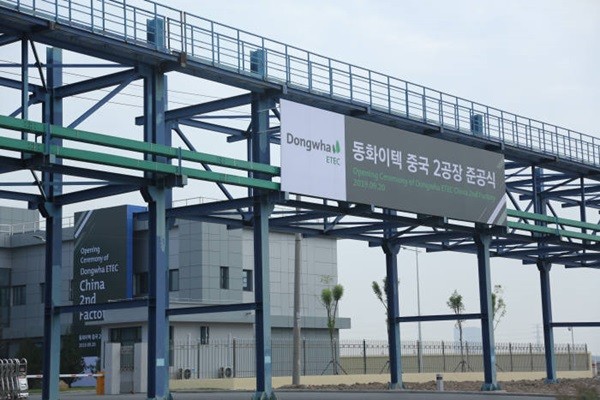 panaX etec is also working on improving its production capacity for electrolyte according to the growth of electrolyte market. It is currently producing 10,000 tons, 10,000 tons, and 3,000 tons of electrolytes from South Korea, Malaysia, and China respectively and it will have production capacity of 33,000 tons eventually when its Plant 2 goes into operation on full-scale. Its plan is to double its current production capacity by entering European markets and secure other major battery manufacturers and automotive manufacturers from South Korea and other countries in addition to Samsung SDI as its customers.
panaX etec was established after Ukseung Chemical acquired Cheil Industries' Electrolyte Business Department in 2008 and became a split-off in 2009. South Korean private equity funds Quintessa Investment and JKL Partners acquired the management right of panaX etec through a special purpose company (SPC) Aston2013 LLC in 2013. Dongwha Enterprise acquired panaX etec in July of last year for $107 million (128.3 billion KRW).
Dongwha Enterprise is one of Dongwha Group's subsidiaries and it specializes in wood materials and plastics. It has diversified driving forces for its growth towards chemical field by entering secondary battery market through acquisition of panaX etec. panaX etec, which is temporarily named as Dongwha etec, will have its official name by end of November.
"Secondary battery market is a market that has infinite possibilities for growth." said Chairman Seung Myung-ho of Dongwha Enterprise. "Through continuous reinforcement of research personnel and active investments, we are going to create opportunities for all of our employees and subsidiaries to grow."
Staff Reporter Jung, Hyeonjung | iam@etnews.com