'Optical system' is a key instrument that is absolutely needed for semiconductor and display equipment that uses light. Knowhow on refractive index of a lens, distance between lenses, and special coating for a lens is needed to use light that is gathered effectively by placing various lenses and to use the light for intended use. This is because how light is gathered and refracted differs depending on each element. Japan, Germany, and the U.S. dominate relevant markets as this field requires a high degree of analog technology.
'LLO (Laser Lift-Off)' equipment is one of many front-end process equipment for manufacturing small and medium flexible OLED. South Korean companies currently control about 95% of world's flexible OLED markets and they mostly use domestic LLO equipment. However, they are currently depending on foreign companies for optical system.
Philoptics (CEO Han Ki-soo) succeeded in supplying its own LLO equipment loaded with its own optical system for flexible OLED production lines.
Philoptics first applied its optical system to its photolithography stepper. Company was established in 2008 with a goal of localizing photolithography stepper. Although there was few domestic deposition equipment that requires a high degree of technology at the time, there were not any domestic photolithography stepper.
CEO Han Ki-soo and Philoptics' executives and employees succeeded in localizing photolithography stepper based on their expertise and knowhow that they had gained for many years before Philoptics was established. As a result, Philoptics succeeded in supplying its stepper for PCB (Printed Circuit Board) and TSP (Touch Sensor Panel) manufacturing processes.
As new DI (Direct Imaging) photolithography stepper is starting to replace previous photolithography steppers, Philoptics is taking necessary actions. DI photolithography process forms layers on top of a substrate without photo mask. Japanese companies control most of DI photolithography stepper markets.
Philoptics became the first South Korean company to develop DI photolithography stepper applied with UV LED light source. Its DI photolithography stepper is able to reduced energy usage rate by using UV LED light source instead of mercury lamp and it is easy to maintain its stepper as its stepper's light source has longer lifespan.
Philoptics currently supplies its DI photolithography steppers to PCB production lines and it is also planning to respond to FPCB (Flexible Printed Circuit Board) market in the future. It is currently having discussions with foreign customers to supply its stepper for semiconductor wafer production lines.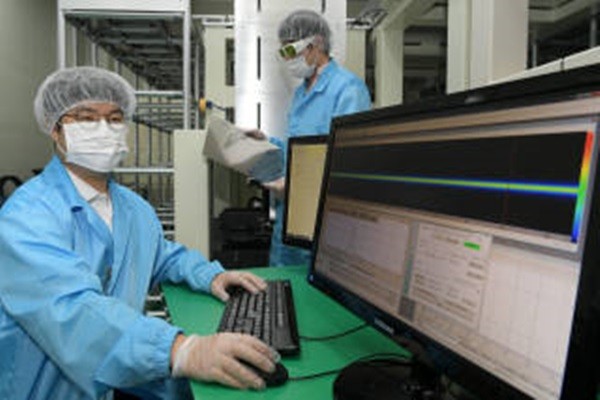 An area where its optical system is shining the brightest is LLO equipment for manufacturing flexible OLED.
To include its own optical system into its LLO equipment, it had carried out R&D and performance tests for about two years. Based on its technical skill in optical system, it succeeded relatively faster than expectations in including its optical system into LLO equipment.
Laser line beam optical system is an area where South Korean companies have been depending on foreign companies in all aspects. Significant amount of cost is needed to bring in and maintain laser line beam optical system as it is significantly expensive and requires expensive parts to be replaced regularly.
Philoptics designed laser line beam optical system by using its high energy laser processing technology and lens designing technology. As a result, it was able to apply its optical system to its LLO equipment and greatly reduce level of depending on foreign countries. It supplied many of its LLO equipment with optical system to Samsung Display when Samsung Display was investing into large-scale 6th generation flexible OLED facility.
"Foreign companies have strict access towards their line beam optical systems even for customers." said Director Ryu Sang-gil of Philoptics' Central Research Institute. "By manufacturing our own line beam optical system, our customers are able to reduce financial burdens and receive our service at proper time." He also added that Philoptics has been supplying its OLED laser process equipment to Chinese companies since the end of last year and that Philoptics is pioneering new markets through electric vehicle battery pole plate manufacturing equipment and others.
Philoptics expanded its optical system technology towards FMM (Fine Metal Mask) field.
Along with its subsidiary PhilMaterials, they developed a technology that produces FMM disks through electroforming method and a patterning technology to form fine holes on a disk through electroforming method and laser. As a result, Philoptics developed a technology that limits thermal expansion coefficient under 1ppm.
"We have been focusing on developing world's first and South Korea's first technologies." said CEO Han Ki-soo. "Based on experiences we have gained from localizing LLO optical system, optical system for manufacturing high-resolution masks, DI photolithography stepper, OLED laser cutting equipment, we are going to do our best to localize next items."
Staff Reporter Bae, Okjin | withok@etnews.com