Bid rigging issue that has been noticeable within South Korea's construction industry is also taking place within South Korea's ICT (Information Communication Technology) industry. ICT industry believes that the issue has been taking place for quite some time even though it did not stand out. Industries where bid rigging is prevalent cannot make growth because it is meaningful companies to put in efforts to improve their competitive edge of their products and services when they take turns in winning bids. If bid riggings issue is left alone, South Korea's competitive edge in ICT industry that it has struggled to gain will be lost.
◊Bid rigging issue spreading within the ICT industry
There are many types of collusion. FTC (Fair Trade Commission) states that there are total of eight different types such as agreement on price, limitation on trading partner, agreement on terms and conditions of business, and limited business activities. Out of these types, bid rigging was classified only 12 years ago.
"Reason why decided to classify bid rigging as a separate type is because." said FTC.
In the past, bid rigging was mostly found within the construction industry. Extensive collusion that had taken place during 'Four Rivers Project' is the prime example. FTC levied fines more than $82.3 million (100 billion KRW) on construction companies that had participated in a collusion in 2012.
However, there have been examples of bid rigging within the ICT industry recently.
It is taking place in various ICT-related industries such as telecommunication, software (SW), and robot. Out of six major bid rigging incidents exposed by FTC this year, four of them involve ICT. Even in 2018, it reported five bid rigging cases involving the ICT industry. Industries believe that there are more bid rigging cases taking place within the ICT industry including cases that were not reported separately by FTC, going through a process, or not exposed yet.
◊Secret promise made within new markets
After analyzing resolutions on major cases made public by FTC, many bid rigging cases within the ICT industry were based on 'prevention of failed bidding through a bid made by single business'.
If there is only one participant in a public bid, corresponding bid is rejected due to absence of competitions between companies. Private contract takes place if the corresponding bid is rejected once more through additional bid.
In this case, corresponding project is postponed further back. It becomes easier for companies to think about collusion if it is unclear that a private contract will take place or not. Companies will have sidekicks without competitive edge participate in a bid to prevent a bid from falling apart and easily win bids that they are participating in.
Reason why this type of bid rigging is taking place within the industry is because number of companies participating in new markets within the industry is relatively low.
'Cyber Model House' incident is a prime example. FTC levied fines on Midas IT, Beyond 3D, and King Kong that colluded in a bid for Cyber Model House project ordered by Korea Land & Housing Corporation (LH) in 2018.
"Cyber model house market is not vitalized and it is mostly occupied with public rental bidding market led by LH." said FTC through its resolution on this case. "Fact that there are not many new businesses that are looking at this market as their main business was the main background for bid rigging on this case."
There were cases when ordering organizations induced collusion due to their concerns that their projects would be delayed.
Such case was discovered during 'ERP (Enterprise Resource Planning) System Bidding incident' exposed by FTC in February. FTC exposed Metanet Interactive and Echo IT that colluded in ERP System Bidding ordered by Korea Hydro & Nuclear Power (KHNP). However, this case caught FTC's eye when KHNP requested collusion to prevent from its bidding to fall apart.
"Because KHNP was worried that there would be single participant during its bidding process, it requested collusion from participants of its bidding so that its project can be completed normally." said FTC through its resolution on this case.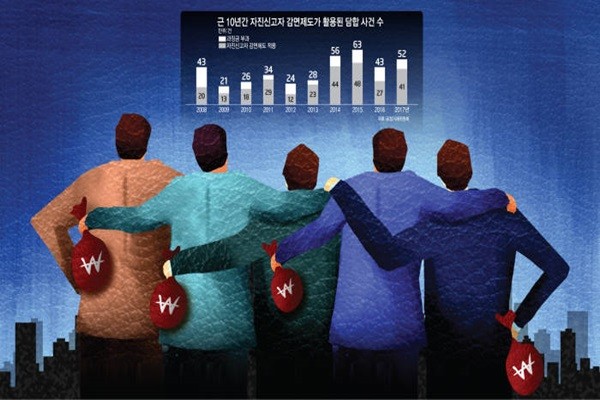 ◊ICT industry points to systematic issue as the cause of collusion
ICT industry analyzed that low profitability from reasons such as 'lowest winning bid' in cases of public biddings was a cause for collusion. It is pointing out that there are many systematic problems including Lowest Bidding System.
FTC exposed collusion between Seculix and Link IC that had taken placing during Information Security System bidding ordered by Korea Gas Corporation. 'Profitability' from this bidding that is based on Lowest Bidding System had induced collusion between the two companies.
"Because Seculix believed that there was a high chance that there would be no other participant due to low profit ratio resulting from this project, it met with Link IC and asked Link IC to participate as a sidekick so that it could win the bid." said FTC through its resolution.
"Because the budget for most of IT projects ordered by South Korean Government is set low, companies have no choice but to resort to collusion to reduce amount of their losses." said a representative for Korea Information Technology Service Industry Association. "There needs to be an effort by South Korean Government to raise the lower limit from 80% to 95% so that there will be fair competitions between companies."
Industries point out that South Korean Government needs to establish strict laws and improve systematic and market environment at the same time so that bid rigging issue does not spread within the ICT industry.
"Regarding a systematic issue found during the process of handling bid rigging incidents, we are going to discuss with relevant departments about improving our system." said FTC during its announcement on this year's operational plan.
Limited bidding participants through unnecessary limited bidding qualifications, bidding method where collusion is easy, and implication by ordering organizations for collusion to prevent failed bidding are some of the examples of systematic issue.
"We will not be able to maintain or improve our competitive edge of ICT industry globally if this issue spreads within the industry." said a representative for the industry. "We need active support from South Korean Government."
Staff Reporter Yoo, Seonil | ysi@etnews.com & Staff Reporter Kim, Jiseon | river@etnews.com