As possibility of Japanese Government expanding its regulation towards other products in addition to three semiconductor materials that are already under regulation grows, Japanese equipment manufacturers are beginning to be more concerned. This is because Japanese equipment are heavily involved during semiconductor and display production processes. Although Japanese equipment manufacturers believe that possibility of its government's regulation expanding towards their field is low, they are keeping a close watch on current market conditions that have become unclear.
According to South Korea and other countries' semiconductor and display industries, major equipment manufacturers in Japan are beginning to be concerned about aftereffects of their government's regulation.
Not only can they eliminate a possibility of having their products added to current regulation, current regulation can also force Samsung Electronics and SK Hynix to reduce their investments. They are concerned that opportunities for new investments will be reduced or disappear due to current regulation when they are already going through difficulties from reduced investments by semiconductor and display industries.
"Most of Japanese equipment manufacturers that I met are concerned about aftereffects of Japanese Government's regulation." said one CEO who attended a semiconductor equipment exhibition called SEMICON WEST that was held in San Francisco. "Because a lot of their products are used for major semiconductor and display processes, they are concerned that current regulation may affect their products down the line."
Representatives from most of Japanese equipment manufacturers believe that current regulation will not expand towards their industry because the regulation can have a greater impact than what it has on semiconductor materials as many businesses from various fields work together to produce one equipment. However, they are concerned that the regulation can lead to reduced investments by Samsung Electronics and SK Hynix.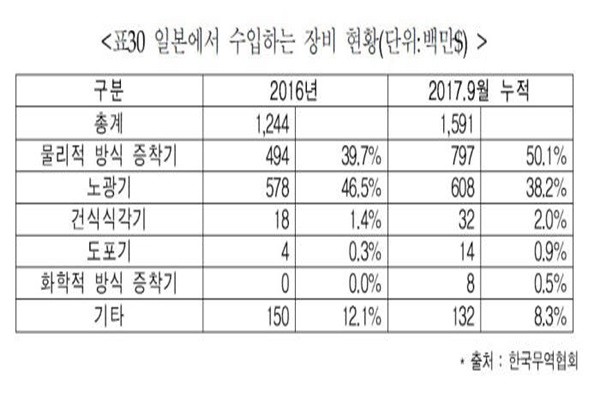 "Investments by Chinese businesses on 6th generation flexible OLED will be at their final stage after three years at the maximum and semiconductor investments by Chinese businesses are kept in check by the U.S. Government." said a representative for a Japanese equipment manufacturer. "While we are already going through difficult times due to reduced investments by South Korean semiconductor manufacturers since the second half of last year, it will be even tougher for us if Japanese Government's regulation somehow reduces investments even more."
"Because we can utilize our foreign production corporate if semiconductor and display equipment is under regulation, we will not face any immediate issue with exporting our products." said a representative for a different business. "However, we are concerned that the regulation will somehow reduce investments made by front-end corporations."
All depositors and lithography systems used by South Korean display manufacturers come from Japanese businesses. Although SUNIC System succeeded in mass-producing 6th generation depositor, CANON TOKKI's influence is still very strong. Lithography system market is monopolized by Nikon and Canon.
According to Korea International Trade Association's analysis, 62% of entire display equipment imported by South Korea from January to September of 2017 came from Japanese businesses. Out of all equipment imported from Japanese businesses, 50.1% and 38.2% of them were OLED depositors and lithography systems used for TFT (Thin Film Transistor) process respectively. In 2018, 33.8% of entire equipment used for manufacturing semicondutors came from Japanese businesses.
Staff Reporter Bae, Okjin | withok@etnews.com