5G mobile network has evolved to a higher level. There are various 5G services and degree of completion of 5G technology has improved as well. Commercialization of 5G network in China is approaching.
'MWC 19 Shanghai', which opened on the 26th and is being held at SNIEC (Shanghai New International Expo Center), is a place where people can see such trends at once.
Although 'Intelligent Connectivity', which is the topic of MWC 19 Shanghai, is same as that of MWC 19 Barcelona that was held in February, level of interests towards 5G network surpasses level of interests towards 5G network during MWC 19 Barcelona.
◊China closing on commercializing 5G network
Spectators at MWC 19 Shanghai were able to see that commercialization of 5G network in China is not too far away. China Mobile, China Telecom, and China Unicom and their partners introduced various 5G services that were displayed throughout seven exhibition halls.
China Mobile, which is the top telecommunication corporation in China, had drawn interests of spectators by demonstrating super-low latency technology through a robot that moves at the same time as the movement of a person. This technology proved that 5G technology in China has reached global level.
5G remote surgery technology had also caught spectators' attention. China Mobile worked with King's College and Ericsson and introduced a video of 5G-based remote surgery. Live demonstration is expected to take place on the last day of MWC 19 Shanghai.
China Mobile displayed many tangible and immersive 5G services inside of a separate exhibition hall and provided opportunities for spectators to experience them. In addition to VR and AR-based basketball game, it also displayed 5G services and contents that can be commercialized right away.
China, which was stimulated by South Korea being the world's first country to commercialize 5G network, pushed forward commercialization date of 5G network, which was initially set as 2020, by one year. It is expected that China will commercialize 5G network this coming third quarter at the earliest.
Chairman Yang Jie stated that it would commercialize its 5G network in more than 40 cities starting from end of September.
Level of 5G network in China can be higher than that of other countries that commercialized 5G network first when it comes to its services and contents. MWC 19 Shanghai clearly shows possibility of such services and contents.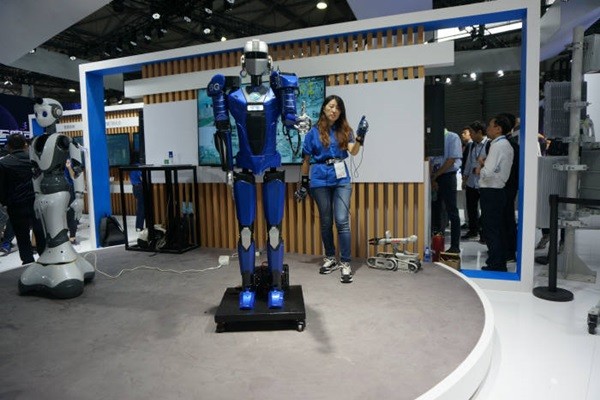 ◊Huawei displays its technical skills in 5G network
It is not an exaggeration to stay that MWC 19 Shanghai, where South Korea's three major telecommunication businesses are not in attendance, is an event for Chinese businesses to show off their technical skills in 5G network. Huawei, which has set up its booth with a topic '5G is ON', has shown its will to secure the leadership in 5G market by introducing full lineup of its 5G technology.
Huawei notified its partnering telecommunication businesses that 'all of its preparations are ready'. It showed current status of its partnership with various European countries regarding commercialization of 5G network in those countries and it also showed an example of commercialization of 5G network through LG Uplus.
Huawei also introduced tools that are optimized for setting up 5G network. It emphasized that its digital 5G tools such as cell planning and intelligent optimal solutions can be used to quickly prepare 5G services.
DIS (Digital Indoor System) that can be seen as an indoor repeater, a technology that applies technology appropriate for certain environment such as 5G NSA (Non-Standalone) and SA (Standalone) on its own, and a technology optimized for operating 5G network prove that Huawei has necessary tools to support 5G services.
A picture of a spectator controlling an excavator remotely under a sign that said 'Future Is Already Here' in Chinese was the highlight of Huawei's exhibition.
This spectator sat on the cockpit of an excavator and controlled excavator that was located at a construction site that is far away while looking at a monitor. An excavator that was located in Henan, which is 1,200km away from Shanghai, moved according to the control. This is an impossible feat if not for 5G super-low latency technology.
◊Every displayed product and service based on 5G network
Characteristic of MWC 19 Shanghai is that topics of all seven exhibition halls are based on 5G network. Because 5G network was somehow related to every service and product that were displayed, spectators were able to see that 5G network is starting to expand on full-scale.
N3 Hall, which is the main exhibition hall, had instrument manufacturers such as Ericsson, Nokia, and ZTE and telecommunication corporations such as China Mobile and China Telecom introduce their 5G products and services.
One that thing that stood out the most was demonstration of Ericsson's SA-based live streaming. Unlike NSA that combines LTE and 5G, SA utilizes 5G technology for both core and base station. It is truly a 5G service that reaches maximum speed of 20Gbps and it is expected to be commercialized at the end of this year at the earliest.
Although Ericsson also introduced its SA technology at MWC 19 Barcelona, it was not at the level of commercialization due to the size of user equipment. However, the user equipment that Ericsson introduced this time is only the size of a palm. Its equipment is equipped with a SA chipset that is developed by MediaTek and int demonstrated video streaming in real-time.
Ericsson also introduced RBS (Radio Base Solution) that is a base station for high frequency including 28GHz. Unlike AAU (Radio Unit of LTE) that partially has DU (Data Unit) functions, RBS is a base station that has entire DU functions.
"Due to a characteristic of high frequency that has short range of radio wave, we are going to install RBS on a support fixture that is in a shape of a streetlamp rather than the top of a building." said a representative for Ericsson. "This is the reason why RBS has all DU functions."
Nokia displayed 32TRX (32 transmitting and receiving antennas) 5G base station that is developed by a South Korean company called KMW and 64TRX base station that it developed. It introduced cell planning solution that can be used to design 5G network easily, water cooling base station that was also introduced during MWC 19 Barcelona, and 5G manufacturing industry support service that can help workers to do their work skillfully even though they are not skilled workers.
Staff Reporter An, Hocheon | hcan@etnews.com