South Korean Government is planning to prepare driving forces for next-generation semiconductors by investing $855 million (1 trillion KRW) for ten years starting from 2020. Not only is it going to invest into intelligent semiconductor, but it is also going to invest into equipment manufacturing technologies that can deal with microfabrication processes. Its plan is to promote entire semiconductor industry in South Korea by commercializing system semiconductor and state-of-the-art equipment.
PD Kim Dong-soon of Korea Evaluation Institute of Industrial Technology had a presentation under the topic 'Plans for Promoting a Project on Development of Next-Generation Intelligent Semiconductor Technologies' at System-Semiconductor Forum Breakfast Seminar, which was held at EL TOWER on the 19th, to discuss South Korean Government's plan to support South Korea's semiconductor industry.
This project will be invested by Ministry of Trade, Industry and Energy (MOTIE) and Ministry of Science and ICT (MSIT) starting from 2020 to 2029 to develop next-generation semiconductor technologies. Total amount of investment will be $863 million (1.0096 trillion KRW). MOTIE will invest $446 million (521.6 billion KRW) to promote commercialization of future semiconductor technologies. Rest of investment will come from MSIT to develop fundamental technologies.
"Semiconductor industry has recently changed its landscape from mass-production to small quantity batch production." said PD Kim. "Level of importance of roles of steady small and medium businesses is becoming higher although our semiconductor industry's system semiconductor technologies fall behind that of advanced countries and the industry still lacks fundamental technologies."
MOTIE is going to invest $231 million (270.6 billion KRW) into semiconductor design. "We are going to invest into AI processor, which has recently emerged as a popular trend, and software that can operate such processor, and development of fast interface that can quickly send large information." said PD Kim.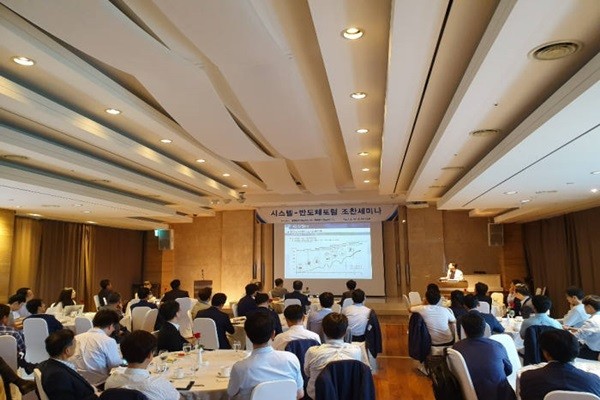 It is also going to invest into development of various future system semiconductors such as ultra-low-power edge SoC (System on Chip) device, high-resolution camera system chipset for cars, and ECG monitoring sensor.
In addition, it is going to invest $215 million (251.1 billion KRW) into equipment manufacturing technologies that can deal with microfabrication processes. There is a higher need for new equipment as microfabrication processes under 7nm are starting to grab attention of semiconductor industries.
South Korean Government is going to invest into ALE (Atomic Layer Etching) equipment, EUV (Extreme Ultraviolet) mask inspection equipment, and 3D package process technology.
"In addition to this project, we are currently evaluating preliminary feasibility of R&D plan that will support relevant materials, parts, and equipment." said Department Head Park Jong-won of MOTIE's Semiconductor Display Department.
MOTIE is going to form a promotion team for this project by September and receive demand surveys in October. It is going to select the first task of this project in April of 2020 at the earliest and start carrying out the task.
"We are currently establishing a plan for training next-generation talents, which was not included in this project, and we are also pushing for a project on back-end process package platform." said PD Kim.
Representatives in system semiconductor industry who participated in this event showed high level of interests towards this project.
"We need to consider platform support and ways to reduce cost by increasing number of MPW (Multi Project Wafer) support for semiconductor design businesses to develop intelligent processors." said Chairman Heo Yeom of System-Semiconductor Forum. "There needs to be an increase in development cost of software that can smoothly implement hardware in addition to chips."
Staff Reporter Kang, Hyeryung | kang@etnews.com