Innovation process within data field out of financial industries is showing the slowest progress. Minimum discussions that correspond to current trends of international societies are not even taking place due to opposition from civil groups and no progress by the National Assembly. Data-based innovation that can be felt by consumers is being delayed due to disagreement between South Korean Government and the National Assembly and industrial trends.
Conversion process into data economy is being led by South Korean Government and public agencies without collection of any opinion from a private business as a place for discussions has been practically blocked off.
Data-related businesses such as telecommunication business and FinTech business are concerned that they may face harsh consequences if they make rash decisions even before institutionalization. Also, it seems that financial industries are avoiding innovation on purpose.
◊Data ecosystem led by South Korean Government without any participation from private sector
Financial Services Commission (FSC) and Korea Credit Information Services (KCIS) is going to hold an opening ceremony for 'Financial Big Data Open System', which is a system that analyzes and utilizes data, on the 3rd and introduce a roadmap for 'financial Big Data infrastructures' as well.
Also, they are going to announce their plan on how they are going to operate 'financial data exchange' that will be established within Financial Security Institute (FSI) to distribute and mediate data and introduce plans on combining data between two different industries utilizing financial data infrastructures.
This will be the first step towards establishing a data ecosystem that will analyze, distribute, and combine high quality data of financial industries.
This is a first gathering to discuss detailed plans and future plans on data ecosystem after government-wide 'data industry vitalization strategy', which was voted by the Presidential Committee on the Fourth Industrial Revolution in June of 2018, was announced.
However, responses from financial industries are lukewarm as majority of financial industries were not able to actively participate in discussions.
"We are taking a wait-and-see approach towards new businesses that are related to data as there has yet to be any discussion regarding institutional improvement." said a representative for a financial industry. "It is best for us to just observe discussions by South Korean Government at the moment as there are accusations even though we have followed guidelines."
Twenty businesses and four de-identification agencies that provided Big Data service according to 'personal information de-identification guideline', which was established by Korea Communications Commission (KCC) in 2016, were actually accused by civil groups. Although South Korean prosecutors acquitted them from such accusation in April and ended any controversy, it is not easy for private businesses to make rash decisions when there has yet to be any institutional improvement.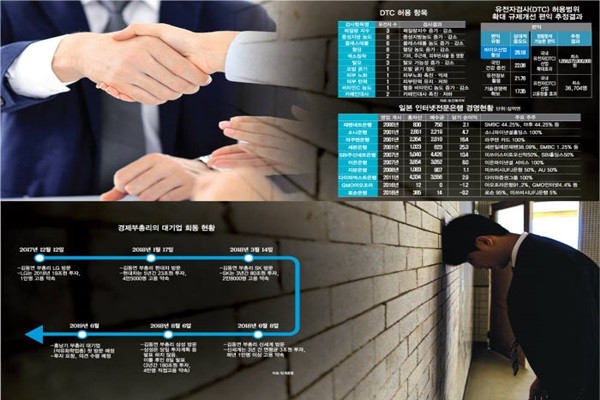 ◊Revised bills not even being discussed by the National Assembly
There are currently three bills that are currently in pending status within the National Assembly and they are 'Personal Information Protection Act revised bill', 'Information Communication Network Act revised bill', and 'Credit Information Act revised bill'.
Each revised bill includes necessary items for expanding one's right of control towards personal information that in included in European Union's GDPR (General Data Protection Regulation) that was enforced in May of 2018. These bills introduce a concept of 'information under a false name' that protects a certain individual from identification without any additional information and they allow scientific researches with industrial goals to take place.
However, these revised bills are not discussed properly other than by Public Administration and Security Committee. Even Public Administration and Security Committee has yet to have any discussion regarding massive information that is within these bills. Report on Personal Information Protection Act revised bill issued by the National Assembly is more than 200 pages.
Complicated interests are one of main reasons why financial industries are hesitant on participating in discussions related to data innovation.
"Despite the fact that private sector has no reason to participate in data innovation due to current revised bills that push data combining agencies towards public sector, South Korean Government is putting out compromise proposals that ask for opinions from civil groups first in order to pass relevant systems." said a representative for a financial industry. "There is no reason for us to participate in discussions and we are actually being targeted by oppositions in fact."
◊Financial industries showing no interest despite many tasks
There is no progress with important tasks as financial industries are avoiding having any discussion. At the end of April, FSC started operating Data Standard API Working Group that is comprised of South Korean Government and relevant organizations to prepare for revision of Credit Information Act.
Although this working group is an important organization to prepare for data standard that covers entire financial industries as well as South Korean Government, public organizations, and mobile network providers, there is not much interest other than from businesses that are currently faced with changes. Other than banking and credit card industries that need to plan for innovation immediately to introduce open-banking system, other financial industries are not even recognizing urgent problems properly.
Conflicts with FinTech businesses are also becoming more intense. As data-based innovation is threatening businesses of current financial industries, there are conflicts between businesses that are trying to protect their businesses and businesses that are trying to steal their businesses.
"We can only keep pace with institutional improvement when South Korean Government decides on areas that can be provided by standard API." said FinTech industry. However, financial industries are stating that it is illogical for private sector to take action towards institutional changes that can immediately make an impact on sales. "Majority of financial industries believe that it is advisable for them take a wait-and-see approach towards follow-up measures that come from institutional changes." said a representative for a financial industry. "Protecting one's business is priority over innovative growth."
"Although we are actively pushing for institutional improvement, there is yet to be any significant progress." said a representative for South Korean Government. "We are going to have discussions from many angles so that we can push for institutional improvement and apply opinions from private sector at the same time."
Staff Reporter Ryu, Geunil | ryuryu@etnews.com