Japanese and Chinese businesses are doing everything they can from development of relevant technologies and expanded marketing to grab upper hands in 8K field that is seen as the next-generation broadcasting market. Japanese businesses and Chinese businesses set 2020 and early 2022 respectively as their timings to start 8K broadcasting. 8K TVs are being marketed as main products at Japanese home appliance stores. Chinese businesses are expected to put out 8K TVs once panel manufacturers start mass-producing 8K panels starting from second half of this year.
◊Japanese businesses look to rebound through Tokyo Olympics
Japan has been traditionally strong in TV industry. However, its TV industry started to lose its competitive edge when global TV industry changed from analog to digital generation. Performance of its products falls short of that of products from Samsung Electronics and LG Electronics and competitive price of its products also falls short of that of Chinese products. Sticking to its own technologies and misreading market trends were its mistakes.
Japanese businesses looked to rebound as they faced 4K generation. Although they looked to gain momentum by being the first ones to carry out 4K broadcasting, they did not see much success. However, they recently signaled their revival through SONY and they have started to show strength in premium TV market especially.
While they are focusing on premium TV market, they are also looking to grab an upper hand in 8K market by being the first ones to carry out 8K broadcasting. As Japan prepares for 2020 Tokyo Olympics, NHK started 8K broadcasting through satellite broadcasting in last December. Along with the start of 8K broadcasting, SONY and Panasonic are focusing on 8K TVs. Japanese businesses have strong technical skills in broadcasting and broadcasting equipment fields as well.
"8K is the hottest issue within Japanese TV market." said a representative for the industry. "Japanese businesses carry out marketing by saying that customers should look to purchase 8K TVs if they are looking to purchase TVs."
◊Chinese businesses look to grab an upper hand in 8K industry
Chinese businesses are growing their influence in global TV markets through their competitive price. TCL and Hisense currently hold third and fourth places in global TV market followed by Samsung Electronics and LG Electronics. Skyworth, Changhong, Konka, and Haier have also steadily increased their market shares.
Until now, most of Chinese businesses have grown their businesses based on enormous domestic market. However, they have begun to focus on foreign markets recently. One of TCL's goals is to become the third biggest TV business in European markets by 2020.
Chinese TV manufacturers are planning to expand their influence within global TV market through 8K market that is just starting to pioneer and they are surrounded with favorable conditions to do so.
Chinese businesses are planning to start 8K broadcasting at the same time as Beijing Winter Olympics that will begin in February of 2022. It is clear that they will carry out extensive advertisements and marketing before Beijing Winter Olympics.
Conditions for them to sell 8K TVs are also favorable. Not only does China have the world's biggest domestic market, its consumers prefer medium to large-scale TVs. In addition, it is heard that Chinese LCD panel manufacturers will operate their 10.5th generation lines or higher on full-scale starting from second half of this year and prepare for mass-production of 8K panels as well. Industries predict that Chinese TV manufacturers will quickly gain market shares as they will put out their 8K TVs at a price that is half of that of premium products that are currently on market.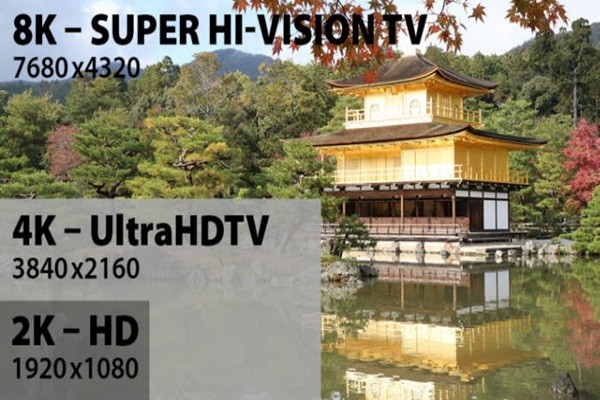 ◊South Korea yet to have any plan for 8K broadcasting
South Korea, China, and Japan are the ones that are very active in 8K TV market. However, the fact that South Korea is the only country out of the three to not have any plan for 8K broadcasting can act as a negative factor in medium to long term.
"There needs to be a corresponding ecosystem for 8K market to be vitalized." said a representative for a TV manufacturer. "Vitalization of 8K market is only possible when broadcasting equipment, 8K TVs, 8K contents businesses, and 8K streaming services make harmonious relationship." This representative also added that there will be limits to South Korean TV manufacturers when they are the only ones to attempt to connect 8K to 5G network.
There is a reason why it is difficult for South Korea to carry out 8K broadcasting early. Not only 4K broadcasting just started in South Korea, there has yet to be appropriate standard for 8K. International standard for the next-generation compression technology called VVC (H.266) is also expected to come out next year.
"We predict that it will take about three years for international standard to be established for 8K and five years for 8K technology to be commercialized." said a representative for Ministry of Science and ICT. "It is unrealistic for broadcasting businesses to create 8K contents at the moment due to rapid increase in production cost and it is desirable to approach 8K broadcasting industry from an aspect of fundamental technology."
Staff Reporter Kwon, Keonho | wingh1@etnews.com