Nano Technology Research Association (NTRA, Chairman Jung Chil-hee) announced that it successfully held 'Nano Product Exportation Delegation: 2019 South Korea – Vietnam T + 2B Trade Conference' that was held in Hanoi, Vietnam for two days starting from the 8th (current time).
The conference is part of T +2B Nano Convergence R&D Promotion Project and it is the second conference held followed by the one that was held last year.
ECOWAY, Namyang Chemical, and Donghwa Vitex (construction), Bio Synectics and Ferramed (food), AIRTEC (home appliance), Cresin and CNT Solution (nano-material), and Youngyiel Precision, Ntrium, and EVERCHEMTECH (IT material) participated in this conference.
Consultations on 82 transactions, export contracts worth $9.32 million (11 billion KRW), and signing of five contracts for business corporation had taken place during the conference. There were many interests towards businesses that are related to automobile and mobile industries that have been actively promoted by Vietnamese Government recently. Vietnamese businesses invited representatives of South Korean nano businesses to their headquarters and requested additional inspection of their sites.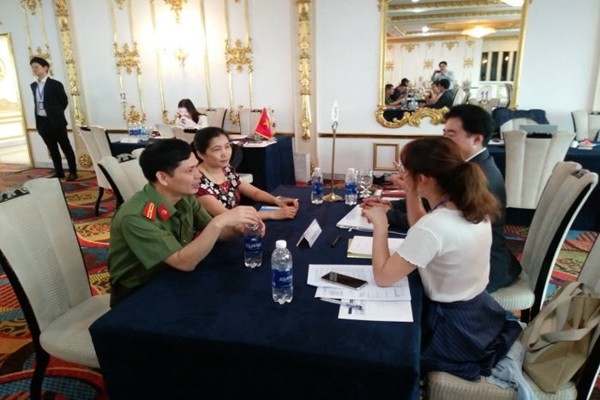 South Korean nano businesses believed that this was a good opportunity for them to confirm possibility of Vietnamese market and acceptance of their nano-products. As number of demands for state-of-the-art nano-materials and parts is growing in Vietnam, some say that South Korean nano businesses should be active in trying to target Vietnamese market.
Ferramed, which is a nano-bio business from Daejeon, discussed about iron-based food additives that are quickly absorbed by human body and signed supply contracts worth at least $200,000 and MOAs (Memorandum of Agreement).
Namyang Chemical, a business that specializes in paint, signed a MOA with a Vietnamese business regarding its products for new buildings and flooring of plants and promised to have a continuous cooperation. Through this conference, it is estimating to export products worth more than $1.69 million (2 billion KRW) annually.
AIRTEC had discussions with Vietnamese distributors regarding supply of its air purifiers with nano-antibiotic filters. It is currently having additional negotiations as many distributors are requesting for monopolistic rights to its products.
"Although Vietnamese market is not completely opened, it will be an opportunistic country for nano businesses by lookin at the future." said Executive Director Han Sang-rok of NTRA. "We are going to continue to look for promising markets just like Vietnam."
Staff Reporter Jung, Hyunjung | iam@etnews.com