"We develop new applications every day ever since we established PaaS (Platform as a Service)." said Lockheed Martin.
"We are able to update and distribute our software 500 times faster than before." said Exxon Mobile.
Global businesses are currently going through digital transformation. Aside from industries such as finance and distribution where contact with internet customers is very important, other industries such as conservative radioactive and energy industries are also going through digital transformation. Regardless of fields, global businesses are going all-in on digital transformation as they believe that they will fall behind in competitions if they miss out on timing of digital transformation. South Korean industries point out that there need to be relevant policies to support digital transformation within South Korea.
◊Speed of digital transformation to determine competitive edge of a business
Reason why global businesses are so quick to go through digital transformation is because they are trying to secure competitive edge.
Based on Dell EMC's survey on 4,000 executives and employees of global IT businesses in 2018, there were three times more executives and employees who responded by saying that businesses that completed digital transformation are in higher standing compared to businesses with traditional infrastructures. There are also three times more businesses that already finished their IT projects earlier than their respective schedules.
Businesses invest in digital transformation to grab upper hands in fierce competitions.
Exxon Mobile has been working on digital transformation since two years ago. First, it hired appropriate individuals for digital transformation. It then established open source-based platform that is rarely seen in conservative oil industry. As a result, it has been able to develop products and modify codes in a short period of time. "Our update and distribution of software is 500 times faster than before." said Data Scientist Audrey Reznik of Exxon Mobile. "We are able to create various businesses as we are able to quickly develop business solutions."
Shell, an American energy business, started its business with oil and it is currently supplying new energies such as wind power. It hired experts for management of various energies from natural resources to renewable energy and it converted its infrastructures into Cloud infrastructures to secure flexible development environment. As a result, it is able to quickly and accurate perform tasks for its partners such as oil and gas consortiums and various customers such as airlines.
Digital transformation is also taking place in sports and fashion as well.
NBA is attempting digital transformation to provide games with better quality to players and fans in midst of seasons that are coming and going quickly. It is maximizing use of digital innovative technologies to provide better technical skills and strategies to players and teams and better experiences and memories to global fans.
COACH, a fashion brand, is improving its business through digital experience called Tapestry. Tapestry is serving customers in Coach, Stuart Weitzman, and Kate Spade. It applies data analysis and customized systems that are appropriate for operation of each brand and it gets its innovative ideas centered on consumers by utilizing design thinking.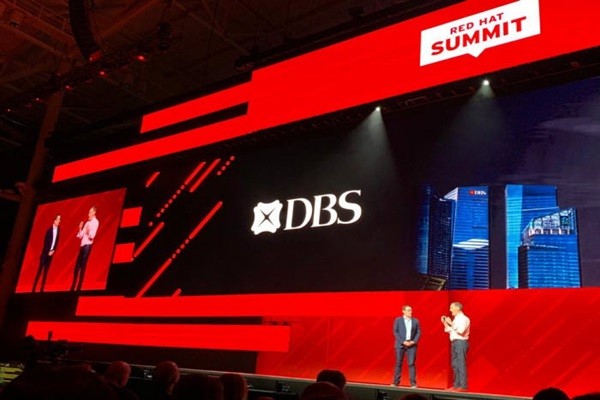 ◊Easing of regulations lead to quicker digital transformation
Singapore is seen as a country that is most active in digital transformation out of countries in Asia-Pacific region. DBS Bank in Singapore is a prime example. DBS has been preparing a digital banking business since 2009. Its management team hired digital experts and invested heavily into development of relevant technologies. As a result, it has prepared a foundation for a mobile bank and it has drawn interests by introducing a branch-less bank. It surpassed major banks in 2016 and was selected as 'World's Best Bank' by Euromoney Magazine.
"We realized that customers do not prefer physical bank branches anymore." said CIO David Gledhill of DBS Group. "We have studied digital infrastructures of global IT businesses such as Google, Amazon, and Netflix and tried to adopt their experiences into our group."
Digital transformation seemed impossible for DBS Bank five years ago. Regulations on public Cloud were strict in Singapore. However, DBS Bank was able to implement Cloud-based digital banking system as Singapore Government eased its regulations on Cloud.
Experts point out that regulations need to be eased first before businesses are able to go through digital transformation quickly.
According to Dell Technologies' survey, frequent changes to regulations, lack of budget and financial resources, and personal information protection and cyber security are seen as barriers for implementation of digital transformation.
"Digital transformation is slow in countries where regulations on new technologies are strict and it is the other way around in countries where there are not many regulations on new technologies." said Damien Wong who is the vice-president of ASEAN, Red Hat. "Governments need to be think the future and ease regulations for their respective businesses to secure competitive edge."
Staff Reporter Kim, Jiseon | river@etnews.com & Staff Reporter Park, Jongjin | truth@etnews.com