Reason why Samsung Electronics announced that it would become the top system semiconductor business in 2030 is because its semiconductor business still has to work on non-memories including system semiconductor.
Samsung Electronics is the biggest memory semiconductor business in the world. In other words, it is the top business within semiconductor industry that involves DRAM and NAND flash memory that are responsible for storing information.
According to a market research company called IHS Market, Samsung Electronics' market shares in DRAM and NAND flash memory are 42.8% and 35.8% respectively that makes Samsung Electronics the leading business in both fields.
However, it is a different story within non-memory industry that is centered on processing information. In other words, Samsung Electronics is still a newcomer when it comes to non-memory industry.
For example, amount of its sales in non-memory department proves why it is a newcomer. Samsung Electronics made $74.1 billion (86 trillion KRW) in semiconductor business (DS sector) last year. 80% of this amount came from sales of memories.
This indicates that Samsung Electronics made about $14.7 billion (17 trillion KRW) in non-memory departments such as foundry business, AP (Application Processor), and image sensor.
$14.7 billion is relatively low value compared to performance of other non-memory businesses. Intel, which is the world's biggest CPU business, made $70.8 billion in 2018.
Performance of Samsung Electronics in non-memory departments can be compared to performance of Qualcomm, which is a major mobile semiconductor business. From October of 2017 to September of 2018, Qualcomm made $22.7 billion in non-memory department and it made $8.62 billion (10 trillion KRW) more than Samsung Electronics in this department.
This difference is based on size of respective markets. Semiconductor market is divided into memory and non-memory markets. Non-memory semiconductor indicates a 'semiconductor that is not a memory' just like the world itself.
Non-memory market is worth twice more than memory market. According to a nonprofit market research company called WSTS (World Semiconductor Trade Statistics), non-memory market was worth $310 billion in 2018 while memory market was worth $160 billion. This indicates that growth is not guaranteed for Samsung Electronics even if it monopolizes memory market and does not focus on non-memory department. Amount of importance of non-memory semiconductors is growing daily as The Fourth Industrial Revolution approaches.
Vice-Chairman Lee Jae-yong of Samsung Electronics stated that non-memory industry is where Samsung needs to focus on in the future. When President Moon Jae-in asked Vice-Chairman Lee about how he feels about non-memory semiconductor industry, Vice-Chairman Lee stated his intention of growing non-memory semiconductor business by saying that a business always need to make new attempts if it wants to grow.
◊Confident Samsung
Promoting non-memory business has been a long-term homework for South Korea's semiconductor industry including Samsung that has been leaning heavily on memory department. Although semiconductor industry and South Korean Government have been putting much efforts after realizing importance of non-memory semiconductor, there has yet to be any significant result as entry barrier of non-memory industry has been too high.
However, fact that Samsung announced detailed goals and plans for its non-memory business while proclaiming that it would become the top system semiconductor business by 2030 indicates that it has secured certain level of competitive edge that allows Samsung to compete with other non-memory businesses.
Prime example is foundry business. Foundry business is based on a semiconductor designing business (fabless) receiving orders from other businesses and producing semiconductors for them. Because production of semiconductors involves enormous amount of investments, semiconductor industry is divided into designing industry and manufacturing industry.
Although Samsung had been a newcomer within foundry industry, it is now ranked as one of the top foundry businesses. According to a market research company, Samsung Electronics jumped from a fourth place in 2016 to a second place in 2017. Although there is a huge gap between Samsung Electronics and TSMC, which is currently ranked first in foundry business, when it comes to market shares, a gap between Samsung Electronics and the third place is becoming wider as well. At this point, Samsung Electronics can focus on capturing the first place title from TSMC.
Samsung Electronics is making visible results within its AP business that plays a role of a brain of a Smart Device. According to a market research company called Strategy Analytics (SA), Samsung Electronics is currently ranked fourth in AP market. Gap between Samsung Electronics and Apple (14%), which currently holds third place, is not much, and Samsung Electronics is also chasing after Qualcomm and MediaTek that are currently ranked first and second respectively.
It is ranked second followed by Sony when it comes to image sensor market that corresponds to an eye of a digital device. According to TSR, market share of Samsung Electronics and Sony are 23.3% and 26.1% respectively.
Samsung Electronics is planning to become one of the top non-memory business by strengthening its competitive edge even more and become the top semiconductor business in both memory and non-memory industries in the world.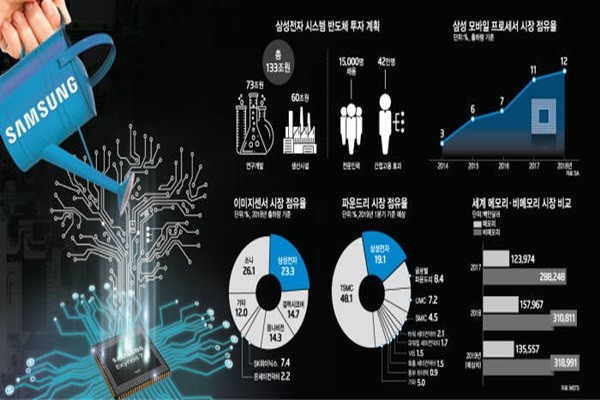 ◊Samsung Electronics to contribute to development of South Korea's system semiconductor ecosystem
Samsung Electronics emphasized that it would play a huge role in developing South Korea's semiconductor ecosystem and promoting system semiconductor industry by strengthening its ability in state-of-the-art process.
As it has prepared a groundwork for manufacturing needed for production of system semiconductors, it is going to support other semiconductor designing businesses with development of state-of-the-art semiconductors.
Support from various businesses such as semiconductor equipment business, semiconductor material business, semiconductor designing business, semiconductor packaging business, and semiconductor testing business are very important when it comes to foundry business.
However, it is unclear whether Samsung Electronics will be able to help other businesses to strengthen their competitive edges as South Korea's system semiconductor industry is in a poor state except for few businesses.
There are only very few South Korean fabless businesses that actually make profits from their businesses. Out of top 10 fabless business based on their sales, five of them made losses in 2018. While excellent individuals are a must when it comes to designing of semiconductors, there has been lack of talented individuals as small and medium business-oriented management has become worse.
"While there were more than 200 fabless businesses in early 2000s that number was cut into half in 2010." said Professor Hong Sang-jin of Myongji University. "Businesses that are not in top 10 ranking are in a deeper hole compared to some of the top 10-ranked businesses."
Semiconductor industry is in dire need of support from South Korean Government. "Because small fabless businesses are not financially capable of investments into R&D, South Korean Government needs to create a research-friendly environment and a positive structure that enables businesses to make investments on their own if they make profits." said Director Ahn Ki-hyun of KSIA (Korea Semiconductor Industry Association).
Staff Reporter Yun, Geonil | benyun@etnews.com & Staff Reporter Kang, Haeryung | kang@etnews.com