Ministry of SMEs and Startups (MSS) is introducing 10,000 franchises obligated quota system per business that is participating in Zero Pay to spread Zero Pay. Also, it added that it would not subsidy to a business that is not able to fulfill this quota. There is also a controversy surrounding MSS' subsidy.
MSS sent 'Zero Pay franchise store consignment business opinion reference' to electronic financial companies to gather more franchises to its Zero Pay project. Its goal is to have 180,000 Zero Pay franchises until the end of the first half of this year and it has begun to gather electronic financial companies that will be in charge of securing franchises.
According to official 'reference' obtained by The Electronic Times, quota and terms for consignment companies are stated clearly. MSS prepared a plan to secure 180,000 additional Zero Pay franchises by the end of the first half and received applications for consignment companies until the 18th. This indicates that MSS is planning to hand over consignment business right to VAN (Value Added Network) companies that manage VAN agencies. MSS is planning to select about ten consignment companies shortly.
However, MSS is causing a controversy as one of qualifications to become a consignment company is to secure at least 10,000 franchises. It stated that it would not provide subsidy to a business that is not able to fulfill necessary quota.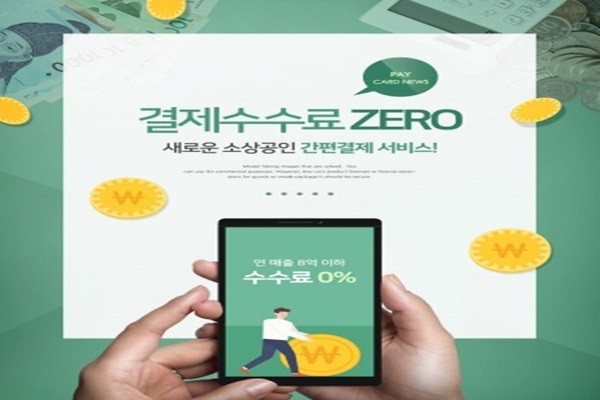 MSS is paying $22.08 (25,000 KRW) to a franchise store that is participating in Zero Pay to support franchise stores with QR payment readers, POS update, and others. Ultimately, consignment companies will receive $22.08 per franchise store once they secure 10,000 franchise stores and help them with update, installation, and maintenance of QR payment readers. If they secure 9,999 franchise stores, they will not receive subsidies from MSS.
Unrealistic subsidy is also a problem. Out of new payment readers that support QR code payment, cheapest reader costs about $20.31 (20,300 KRW). There is about $1.77 (2,000 KRW) difference just from a payment reader. When installation and maintenance cost of a payment reader is considered, consignment companies will have to pay out of their own pockets. "Although we are participating in Zero Pay project, MSS put out an unrealistic measure that does not apply realities of relevant industries at all." said an electronic financial company. "It is better to tell participating companies to do volunteer work instead."
Bigger problem is the fact that this subsidy is actually illegal. It is clearly stated within an authoritative interpretation made by Financial Services Commission (FSC) in the past. If credit card companies or VAN companies provide payment readers to franchise stores for free, FSC considers it an indirect rebate and levies significant amount of fine on them. "It seems that MSS is hell-bent on spreading Zero Pay and is ignoring laws." said companies that are participating in Zero Pay project. "It needs to closely examine current situation and future plans of Zero Pay."
Staff Reporter Gil, Jaeshik | osolgil@etnews.com