$3.29 billion (3.7 trillion KRW) fund will be raised this year on entire venture capital market. It is expected that there will be continuous investments such as $2.16 billion (2.43 trillion KRW) innovative venture fund, $444 million (500 billion KRW) corporate restructuring innovative fund, and $240 million (270 billion KRW) banking job fund according to political demands.
Korea Growth Investment Corporation announced that it is going to raise $3.29 billion fund by investing $716 million (805.8 billion KRW) from total of seven mother funds.
Starting with an innovative growth fund that was co-started by Korea Growth Investment Corporation along with Korea Development Bank and KDB Capital back in January, there will be new investments continuously throughout this year.
Korea Growth Investment Corporation is going to implement $44.4 million (50 billion KRW) growth ladder fund and technical financial fund based on $11.1 million (12.5 billion KRW) investment from Korean Intellectual Property Office. This is a follow-up measure of IP (Intellectual Property) financial plan that was co-announced by Financial Services Commission and Korean Intellectual Property Office last year. Followed by an investment project from this second quarter, $444 million fund will be raised sequentially for the next four years.
Fund specialized for local companies will be carried out with a goal of raising $62.2 million (70 billion KRW). Funding will be focused on funds that are set up to support corporate restructuring innovative fund, LP stock secondary fund, and social investment fund during this third quarter.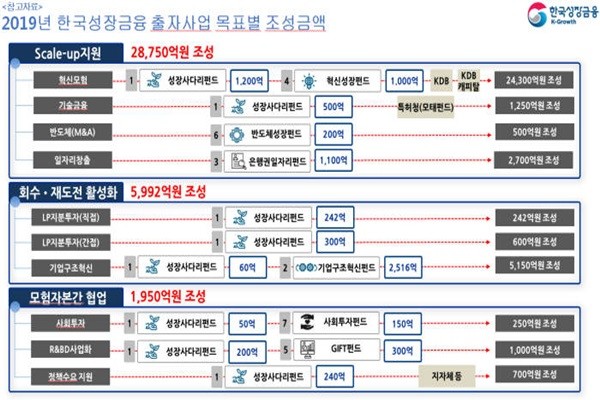 Korea Growth Investment Corporation is going to invest $229 million (257.6 billion KRW) into corporate restructuring innovative fund to vitalize corporate restructuring. It is hoping to form first blind fund, which was invested last year, by end of this first quarter and induce $457 million (515 billion KRW) fund additionally. Its goal is to raise $22.2 million (25 billion KRW) social investment fund and its job creation fund will start during this fourth quarter. Its goal is to raise total of $240 million (270 billion KRW) mother fund. Money from $284 million (320 billion KRW) banking job mother fund, which was created last December, will be invested.
Besides these funds, Korea Growth Investment Corporation is also going to invest into $88.8 million (100 billion KRW) R&D commercialization fund and startup fund that is connected to Mapo Youth Innovative Town. Investment into $44.4 million (50 billion KRW) fund to provide M&A support for semiconductor businesses will be carried out based on demands throughout the year.
"Korea Growth Investment Corporation that had operated only growth ladder fund raised six new mother baby funds last year." said President Lee Dong-choon of Korea Growth Investment Corporation. "Through these funds, we are going to properly remove 'death valley' for companies and we are going to provide support for companies' growth as much as we can."
Korea Growth Investment Corporation invested $1.78 billion (2.0063 trillion KRW) from its growth ladder fund as of last December and raised 107 baby funds worth $8.32 billion (9.3672 trillion KRW). These baby funds include follow-up investments and they were used to invest $5.06 billion (5.6985 trillion KRW) into 1437 companies. 73% of this investment was used for small and medium companies.
It is going to continue to invest funds so that investments can be directly connected to growth of companies.
"Our growth ladder fund will continue to create investments along with various private and political capitals." said a representative for Korea Growth Investment Corporation. "We are going to continue to raise additional mother funds."
Staff Reporter Ryu, Geunil | ryuryu@etnews.com