A startup has risen again after being branded as a company dealing with an illegal payment system even though it was the first one to create a P2P (Peer to Peer) payment system between credit cards.
This is because South Korean Government put out a new authoritative interpretation as financial authorities have recently implemented various policies that ease regulations. Original FinTech companies that were in verge of bankruptcy after being stuck for 3 years even though they signed contracts with credit card companies have found a new turning point.

According to industries, Paxmone (CEO Hong Sung-nam), which introduced South Korea's first P2P (Peer to Peer) payment system between credit cards, is now allowed to carry out its business after receiving an authoritative interpretation from Financial Services Commission (FSC) recently.
Its payment system allows one to send cash gifts to another person's card through his or her credit card even without having balance in his or her account. Although Paxmone was planning on this service with a major credit card company, financial authorities did not allow it due to a possibility of illegal credit card payment.
Although it has improved its service for 3 years and requested a no-action letter from South Korean Government, it had not received any response back. Although financial authorities allowed a similar service from a major credit card company, it was on the verge of bankruptcy by not receiving any clear guideline.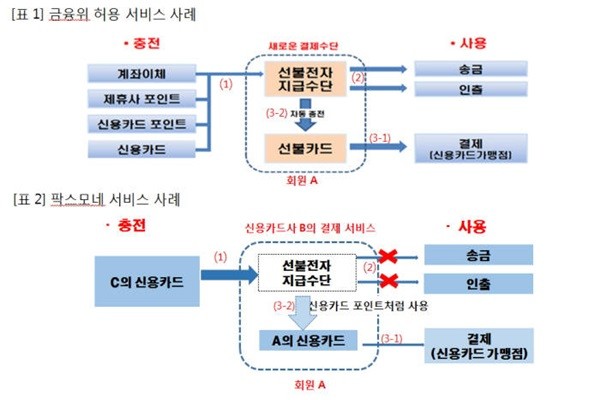 However, FSC recently announced that Paxmone's business is not an 'illegal credit card payment'.
According to FSC's reply letter, it decided that it is difficult to see an act of using a prepaid electronic payment method that was charged through another person's credit card to pay for balance in a credit card as an illegal act.
In addition, it announced that Paxmone's service has to obey procedures from other laws such as Electronic Financial Transaction Act and relevant financial terms and conditions and that charged amount from a credit card needs to be separated from charged amount from other payment methods to prevent any illegal use of this service.
Through FSC's authoritative interpretation, Paxmone is now able to carry out its P2P payment system.
"Although we had made so many requests from FSC, The Office for Government Policy Coordination, and The National Assembly to modify relevant regulations, we did not hear any clear answer." said CEO Hong Sung-nam of Paxmone. "It seems that financial authorities' perspectives towards regulations have changed a lot as relevant laws have passed."
Paxmone announced that it will put out payment methods that can create new demands for payments as it received an authoritative interpretation from financial authorities.
It explained that it will soon introduce a business model that can prove how much innovation is taking place within FinTech industry through a successful example based on its innovative technologies and a credit card company's differentiative services.
"It is urgent for us to reorganize our group that has been broken due to regulations and to secure investments." said CEO Hong. "We are planning to launch various services in the near future." He also added that Paxmone will develop FinTech models for credit cards in Asia-Pacific area and global market through its partnership with global partners."
Staff Reporter Gil, Jaeshik | osolgil@etnews.com