Huobi, which is the biggest Chinese cryptocurrency exchange, is at the center of a controversy with its over-the-line marketing that targets Bithumb and UPbit that are the top two South Korean cryptocurrency exchanges.
Based on its enormous capital strength, it is making a lot of noise on various community sites with events that are set up to steal customers from South Korean exchanges and no-fee promotions that try to encourage day trades.
According to industries, Huobi Korea is making a lot of noise with its blatant promotions that target Bithumb and UPbit.
Huobi recently carried out a promotion with 0% fee and posted a notice called 'Way-Out from Bithumb' that targets Bithumb. It explained in detail about a way of withdrawing funds from Bithumb and putting them into Huobi while explaining to Bithumb customers about trades that have no fees.
Huobi introduced the process in detail and it also published a post that gave off an impression that Bithumb is somehow extorting fees from its customers . When there were criticisms from various community sites towards Huobi Korea, it quickly deleted information about its promotion.
'Zero Fee for 5 Months' promotion that was posted on Huobi Korea's official board is also causing controversy.
In this post, there was a screenshot of a cryptocurrency customer inviting Huobi, Bithumb, and UPbit to KakaoTalk chatroom and asking them questions.
When this customer asked them about their fees, Bithumb answered to the question by saying that its basic fee is 0.15% and that its fee can be cheaper with discount coupons. UPbit answered it by saying that its fee is 0.05% for Won and 0.25% for fair markets.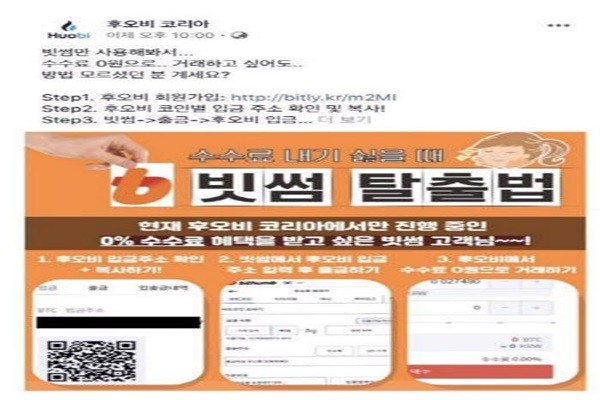 On the other hand, Huobi replied to the question by saying that there is zero fee including fair markets starting from the 26th of November. In the end, it was shown that Bithumb and UPbit left the chatroom after hearing such reply from Huobi. This screenshot also indirectly shows that South Korean exchanges are taking high fees from their customers and it is enough to plan a senseless image of how Huobi is the best exchange for day trades and speculation.
Huobi was also causing controversy in the past when there was a hacking incident with Bithumb by saying that people need to be careful with exchanges that do not have compensation programs.
South Korean cryptocurrency exchanges are angry at Huobi's actions by calling them senseless acts. However, it is not easy for them to take legal actions as there has yet to be any guideline by South Korean Government.
Bithumb and UPbit are criticizing Huobi, which was established with Chinese capital, for taking senseless acts to increase its market share while their customers are leaving them due to various regulations.
As South Korean cryptocurrency exchange users are starting to leave for foreign exchanges due to regulations, there are fierce competitions amongst cryptocurrency exchanges trying to secure South Korean customers. Based on Coinhills, exchange volumes of Bithumb and Huobi Global are about $1.44 billion (1.6 trillion KRW) and $520 million (580 billion KRW) respectively. Exchange volume for Huobi Korea is between $4.49 million and $8.97 million (5 billion KRW and 10 billion KRW).
"There are basic rules within competitions and these recent acts by Huobi really cross the line by a lot." said a representative for a South Korean cryptocurrency exchange who requested anonymity.
Staff Reporter Gil, Jaeshik | osolgil@etnews.com