Samsung Electronics is planning to include foreign remittance function to Samsung Pay in early 2019.
Samsung Pay will develop into a comprehensive financial platform from a simple payment application as Galaxy Smartphones will be able to perform payments, P2P investments, and foreign remittance. Because this is not available for any of the phones by Apple and LG Electronics and Chinese manufacturers such as Huawei and Xiaomi, it is expected to be play a role of priming water that will increase Samsung Electronics' market shares.
According to industries, Samsung Electronics made partnership with two South Korean startup companies and is going to include foreign remittance function to Samsung Pay. It is planning to expand choices for its consumers by launching both of these startup companies' services at the same time.
These startup companies are currently working on connection with API (Application Programming Interface) and are planning to launch their services on full-scale sometime during January. Their services will be provided in a form of outward remittance that sends money from South Korea to foreign countries.
Samsung Pay users will be able to send money to foreign countries at a 80% lower rate than commercial banks because these startup companies' services are based on pre-funding and pooling methods. Pre-funding method has large sum of money sent to a foreign remittance company in advance and sends money to customers through a local partner whenever there are requests from customers. Pooling method indicates sending all of remittance requests from a customer together once a day. Fees are reduced as they do not use current computer network and do not go through intermediate banks.
Both of these companies have secured knowhow in foreign remittance technology as they have advanced to various countries besides South-East Asian countries.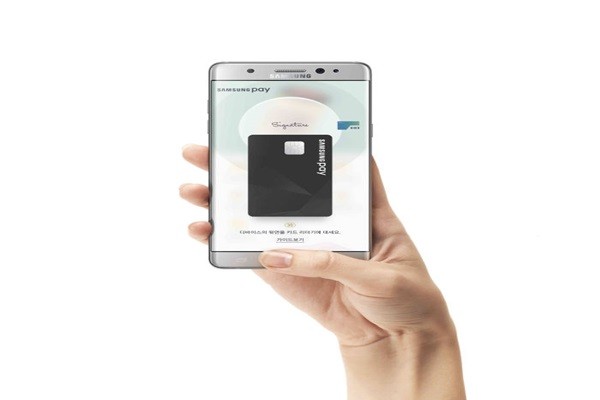 Samsung Pay is Samsung Electronics' mobile device's main platform as a person who used Samsung Pay once considers Samsung Pay as the priority function that he or she looks for when choosing a next Smartphone. Samsung Pay's foreign remittance service is a differentiated strategy that is not available by financial platforms of Samsung Electronics' competitors. Both Apple Pay and LG Pay are based on NFC (Near Field Communication) payment services. Huawei Pay is also serviced within China.
Samsung Electronics has focused on expanding Samsung Pay users by adding withdrawal and deposit and wire transfer services to Samsung Pay in last December. It is expected that foreign remittance service by Samsung Pay will increase level of convenience for consumers in 20 foreign countries that have commercialized Samsung Pay and expand Samsung Electronics' FinTech business. Fact that Samsung Electronics is starting to include Samsung Pay to other lower-end Smartphones such as Galaxy J is a great news for people who have such phones.
It is expected that Samsung Pay's foreign remittance service will have huge impact on South Korea's simple payment market as well. South Korea's simple payment market is basically divided into Samsung Pay (10 million users) and Kakao Pay (13 million users). Samsung Electronics will be able to grab an upper hand in comprehensive financial platform market by being the fastest to enter foreign remittance market. There are about 1.2 million foreign workers (based on 2016) who live in South Korea, and amount of individual foreign remittance was $9.66 million (10.904 billion KRW) in 2017 alone.
"Although we are discussing about various plans, we have not finalized on any issue yet." said a representative for Samsung Electronics.
Staff Reporter Ham, Jihyun | goham@etnews.com & Staff Reporter Choi, Jaepil | jpchoi@etnews.com