Top Asian blockchain companies from Japan, Singapore, Hong Kong, and South Korea are starting to gather around Uzbekistan as they predict that Uzbekistan will provide various business opportunities as its government selects blockchain as a national business.
NAPM (National Agency of Project Management), which is directly under the president of Uzbekistan, held a meeting with KOBEA (Korea-Uzbekistan Economic Commission) Group, Infinity Blockchain Holdings, Wow exchange, and EmurgoHK at Tashkent, which is the capital of Uzbekistan, regarding bringing in blockchain industry to Uzbekistan. Co-Founder Kenji Sasaki of a third-generation cryptocurrency Cardano was also in attendance at this meeting.
KOBEA Group is a Uzbekistan blockchain business official technical consulting company that was selected by Uzbekistan Government.
This meeting discussed about current issues such as establishment of cryptocurrency exchanges approved by Uzbekistan Government, development of digital economy and blockchain technology, and development of national administrative system based on blockchain. It is heard that Uzbekistan Government is planning to introduce blockchain to entire society such as health, social welfare, education, and culture.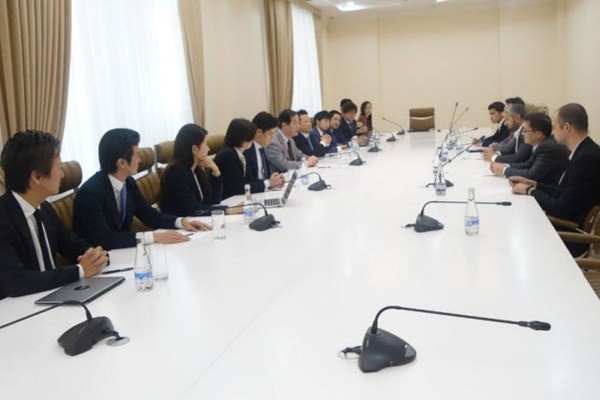 Previously, Uzbekistan legalized cryptocurrency business as an executive order.
This meeting is the first official meeting held by Uzbekistan Government and foreign experts after Uzbekistan legalized cryptocurrency.
Infinity Blockchain Holdings is a holdings group that has its headquarters in Singapore and has a blockchain research development institute in Vietnam and blockchain business groups in Thailand, Malaysia, and Japan.
EmurgoHK was established to provide blockchain technology specialized for Cardano and to invest into Cardano. It is currently investing into promising venture companies through an accelerator program.
Wow exchange is a cryptocurrency exchange in Singapore.
"We had various discussions with top blockchain companies to establish Uzbekistan blockchain project." said a representative for KOBEA Group. "We are also going to make partnership with these companies and provide consulting on blockchain technology to Uzbekistan."
Staff Reporter Gil, Jaeshik | osolgil@etnews.com