Hyundai Card (President Jung Tae-young) has introduced South Korean financial industry's first 'hybrid API (Application Programming Interface)' and applied to its business. It is also looking to establish a portal that will allow every business to easily use its API.
According to financial industries, Hyundai Card completed its 5-month API project based on 'Big Data Platform', which was established in August of 2017, and has started to apply it to some of its businesses. It has completed 'hybrid API' by incorporating strengthens of an open API with high security established as the foundation.
Hybrid API is a platform that implements both high security and an open API.
Previously, infrastructures and programs that are composed of official lines, servers, and security packages needed to be developed to exchange data. However, development of such infrastructures and programs required long period of time due to programs being based on different languages and significant maintenance cost.
Hyundai Card's hybrid API does not requires separate infrastructures. It also reduces time to develop and establish necessary programs by 80% as regulations are standardized. It is also possible to replace high-cost tasks by utilizing APIs that are exposed externally. Actually, Hyundai Card drastically reduced operation cost of its scrapping server through API conversion.
Hyundai Card is also planning to operate an online information exchange system through its hybrid API. This system combines internal and external data and allows for convergence of various data which was not possible in the past.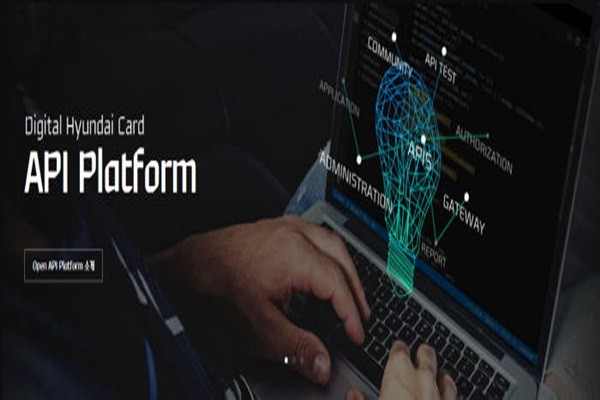 Hyundai Card is looking to innovate its business as well. It started connecting data through Kia Motors' Red Membership application and its hybrid API. People who use 'Save Auto', which is Hyundai Card's automotive point program when purchasing Kia Motors' car, was only able to inquire balance of their M Points through Hyundai Card's application or website. However, they are now able to inquire their balances through Red Membership application as well through hybrid API.
Hyundai Card is also planning to apply separate portals to its open API ecosystem and provide tools that support various development languages and is not limited to development environment and testing period. Companies that work with Hyundai Card will be able to use APIs from 4 items such as M Point inquiry and purchase book point inquiry. Hyundai Card is also looking to enhance its business systems at the same time through its hybrid API.
Hyundai Card has established optimal security measures for its hybrid API. It will exchange information once it receives an agreement from its customer about providing third-party information. Companies that exchange data with Hyundai Card will also need to have same security standard as Hyundai Card.
"It will be possible to have various innovative services and new data analysis through hybrid API." said a representative for Hyundai Card. "We are going to start expanding application of hybrid API."
Meanwhile, number of financial companies that are interested in API is rising quickly as digital innovation has established it self as the hottest topic within financial market. NH Bank launched 'NH FinTech Open Platform' in December of 2015, and Hana Bank and Woori Bank also joined this line as well.
Staff Reporter Gil, Jaeshik | osolgil@etnews.com