National IT Industry Promotion Agency (NIPA) is going to concentrate on promoting new software industries such as AI (Artificial Intelligence), blockchain, VR (Virtual Reality), AR (Augmented Reality). It is planning to form an exclusive task that will improve relevant regulations so that it can create a favorable environment for software companies.
Director Kim Chang-yong of NIPA held a press conference at Gwanghwamun Gate on the 22nd, which marks the one month anniversary of his appointment as the director, and announced that NIPA will concentrate on promoting new software industries.
"Global ICT (Information Communication Technology) market is led by growth of new software industries." said Director Kim. "NIPA will also look for industries with potentials and promote relevant ecosystems."
NIPA requested for $35.3 million (40 billion KRW) as next year's budget for AI field which will be 8 times more than that of this year. It is planning to carry out large-scale AI-based services such as distinguishable trace system (airport) and AI medical diagnostic service and provide data, latest algorithms, and computing power to small and medium AI companies.
NIPA is going to hold verification tests with various items that can be commercialized at the center in 2019 for blockchain field ($6.17 million (7 billion KRW) of budget for 2019). Its goal is to establish relevant ecosystems and promote blockchain companies. For VR and AR fields ($13.2 million (15 billion KRW) of budget for 2019), it is going to look for daily killer applications such as 'VR new life style platform' and promote them.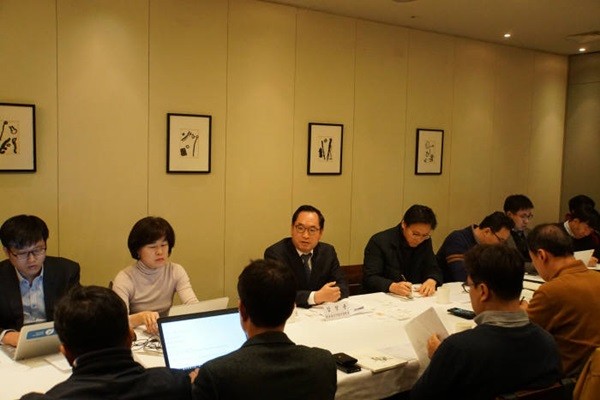 "Because global companies have already grabbed upper hands of platforms related to new software such as AI and blockchain, we need to compete against them with application services." said Director Kim. "We are going to enhance our medium-term support with AI startup companies."
NIPA is also going to form a task force to create a better environment for software companies. This task force will focus on establishing better regulations such as sandbox and temporary approval for new industries. "We are going to carefully monitor before and after regulation sandbox is implemented." said Director Kim. "We expect that regulation sandbox will not only develop new ICT industries, but also contribute to forming relevant ecosystems."
NIPA will also help ICT startups and small and medium companies to enter foreign markets such as India, Vietnam, Singapore, and U.S. (San Francisco).
"NIPA is an institution that promotes software and ICT industries." said Director Kim. "We are going to focus on tying industrial demands and supplies and providing platforms that will promote software and ICT industries." He also added that he will work on establishing a performance-based business operating system as he used to work in ICT industry for 30 years and helping NIPA to become an institution that represents software industries such as AI and blockchain as well as major ICT industries such as Cloud.
Staff Reporter Kim, Jiseon | river@etnews.com