Customs procedure for foreign e-commerce goods are expected to be applied with blockchain technology that will drastically reduce customs clearance time and prevent falsification of documents.
Ministry of Science and ICT (MSIT, Minister Yoo Young-min) and Korea Customs Service (KCS, President Kim Young-moon) announced that they are planning to complete blockchain-based e-commerce goods individual customs clearance pilot service by December.
This project is one of '6 public pilot projects' that are major tasks for development of blockchain technology announced back in June.
In the past, shipping companies had to itemize 28 different types of customs clearance information that combines order information of e-commerce goods and their own shipping information and submit it to a customs director.
Some have been pointing out that sending of product information between shipping companies and e-commerce companies, selection of lists for customs clearance by shipping companies, and preparation of lists are done manually and that these procedures are ineffective.
There were also possibilities of undervaluation and false returns as well as low credibility on information of price, name, and buyer of list of customs. Use of manpower for these possibilities has also emerged as an obstacle. From buyers' standpoint, it was difficult for them to find out customs clearance information of their products in real-time.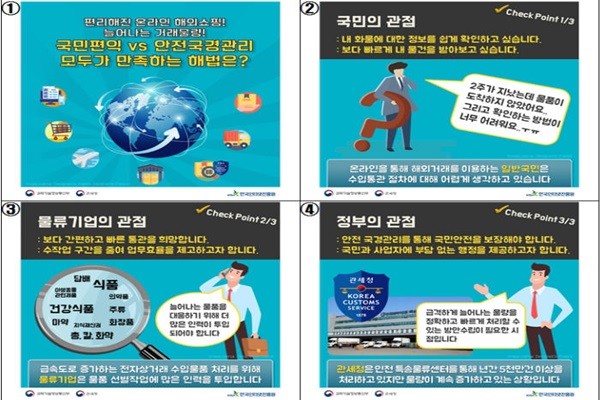 When blockchain-based e-commerce product individual customs clearance system is operated, shipping information and order information can be shared in real-time through blockchain. Customs clearance information that is composed of 28 different kinds of lists can be processed automatically as well.
This system is also expected to reduce entire customs clearance time by half of a day at minimum. Also, because KCS can check order information and shipping information of products in real-time, it can prevent possibilities of tax evasion by e-commerce companies and effectively block illegal products from coming in.
Buyers can also inquire location of their products through 'Blockchain Customs Information Online Portal', which is going to be launched by KCS in next January.
An e-commerce company called Korea Center and a shipping company called CJ Logistics that have business agreements with KCS will participate in this project starting from next January.
In the future, KCS is planning to increase number of e-commerce companies and shipping companies that use its service and induce other customs-related companies to participate in this project.
Ultimately, KCS is planning to establish 'e-commerce customs comprehensive' service that manages every information from international shipping to domestic shipping by increasing credibility and speed of information that is collected within blockchain.
"Through this pilot project, we are going to improve ineffective tasks and procedures by applying blockchain-based distributed system to foreign customs clearance process." said Officer Kim Jung-won of MSIT's Internal Convergence Policy. "South Korean Government will also look for various ways of support so that blockchain technology can spread to other industries as well."
Staff Reporter Gil, Jaeshik | osolgil@etnews.com