Amount of collection of venture investments from January until August of this year recorded $1.58 billion (1.8 trillion KRW) and it is the biggest amount ever in South Korean history. Compared to same duration from last year, this year's amount of collection increased by 107%. Positive trend is taking place as political funds such as secondary fund and M&A fund for invigorating collection markets are displaying their effects and as amount of private venture investments is rising.
Ministry of SMEs and Startups, Korean Venture Capital Association, and Korea Venture Investment Corporation announced 'trend of collection from venture investments between January and August of 2018' on the 10th.
Amount of collection, which includes principals from venture investments and profits, from January until August of 2018 was $1.63 billion (1.8578 trillion KRW). Considering this trend, it is estimated that amount of collection for 2018 will be around $2.46 billion (2.8 trillion KRW).
Profit rate has also improved. Amount of profit was about 136% compared to principals of venture investments and it increased by 67% compared to last year (69%).
Based on a type of a business, collection was active around new industries such as bio and ICT. As number of over-the-counter transactions towards game industry increased greatly, portfolio of collections has shifted from traditional investment sources such as electronics and machineries to new industries.
Based on a type of collection, amount of collection through IPO (Initial Public Offering) increased greatly compared to other types such as M&A and over-the-counter transaction. Café 24, which is the first Tesla requirement (unrealized profit requirement) listing company, achieved the most amount of collection at $91.6 million (104.3 billion KRW) out of collection companies and has helped positive performance regarding collection.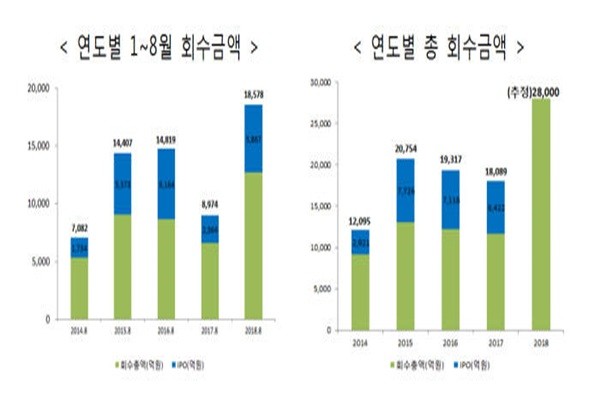 Amount of collection through IPO was $515 million (586.7 billion KRW) and it was 148.2% higher than that of same period from last year ($208 million (236.4 billion KRW)). Number of companies also increased from 94 to 114. Amount of average collection for single company also increased by 103% at $4.48 million (5.1 billion KRW).
As bio companies, which were expecting huge profit, have carried out IPO on full-scale recently, amount of collection has increased drastically as well. Out of top 5 companies based on amount of collection, bio companies took away 2nd through 5th places.
Amount of collection from M&A was $51.7 million (58.9 billion KRW) and it was 122.3% higher than that of same period from last year ($23.3 million (26.5 billion KRW)). Number of companies was 22, which was 6 higher than that of same period from last year. Average collection amount also increased by 61% to 2.35 million (2.68 billion KRW).
Amount of collection from over-the-counter sales (stock + bond) was $850 million (967.7 billion KRW) and it was 99.5% higher than that of same period from last year ($426 million (850 billion KRW)). Especially because Tencent purchased bulk of Bluehole's over-the-counter stocks (amount of collection: $210 million (238.7 billion KRW)), amount of collection in game industry increased by 700%.
Amount of collection from investments in projects such as exhibition and concert was $144 million (164.1 billion KRW) and it was 41.8% higher than that of same period from last year ($102 million (115.7 billion KRW)). Amount of collection from movies, which have been investment sources for many years, remained at 69% for 2 years while amount of collection from broadcasting, game, and intellectual property increased by more than twice compared to last year.
Amount of collection from intellectual properties was $5.97 million (6.8 billion KRW) and it increased by more than 5 times compared to same period from last year ($1.05 million (1.2 billion KRW)). Amount of collection from patents in new industries has become noticeable as ICT and bio industries were responsible for 87% of $5.97 million.
"Positive venture ecosystem that goes from investment to growth to collection and to reinvestment is taking place." said Department Head Seok Jong-hoon of Ministry of SMEs and Startups' Venture Innovation Department. "South Korean Government will expand private venture investments and continue to push for innovative policies so that collection may be simple at the same time."
Staff Reporter Park, Jungeun | jepark@etnews.com