Seoul-si is going to form integrated complexes, which will allow 200 blockchain businesses to move in, in Gaepo and Mapo.
It is going to invest $109 million (123.3 billion KRW) for the next 5 years to invigorate blockchain industry. It is also going to form 'Blockchain Seoul Fund' worth $88.2 million (100 billion KRW) with private companies. By doing so, it plans to decide major policies through mobile votes and simplify procedures for submitting various references.
Mayor Park Won-soon of Seoul-si, who is currently visiting European countries, held a press conference at Zug City Hall and announced 'Blockchain City Seoul Promotion Plan (2018-2022)'. His plan is to make Seoul as a leading blockchain city that will induce promising companies and individuals based on this master plan.
First, Seoul-si is going to apply blockchain technology to its administration on full-scale.
It is going to apply blockchain technology to its online voting system called 'mvoting' to prevent counterfeit and falsification in advance. Starting from 2019, it is planning to allow redevelopment, reconstruction combinations, universities, town communities, and cooperatives to use mvoting system. It is also going to apply blockchain technology to decision on major policies to drastically increase level of participation by residents in Seoul.
It is also going to introduce blockchain technology for selecting welfare candidates such as public labor and housing for young men and women. Applications can be verified of their qualifications through inquiry of online information between organizations without having to go through inconvenience of submitting various references.
It is also going to increase credibility of used car trades by managing ownership transfer, information on accidents, and inspection records of performance and status through blockchain technology. It is going to push for pilot projects in used car complex in Janghanpyoeng that deals 10,000 used cars annually by next year. Afterwards, it is going to expand this project to other complexes in Gangseo, Seocho, and Gangnam starting from 2020.
It is going to combine 5 mileages such as Eco Mileage and Driving Mileage provided by Seoul-si as 'S-Coin', which can be used to pay local taxes and to charge transportation cards. It is also going to manage production power of solar generators through blockchain technology to automate procedure of selling and purchasing surplus power and develop a system that stores health records into encrypted blocks under one's consent and share them between medical organizations.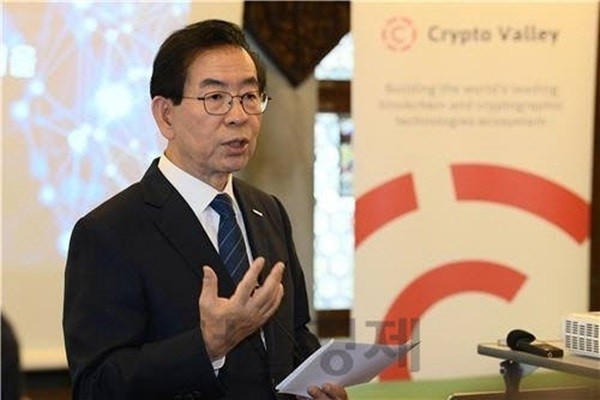 'Blockchain City Seoul Promotion Plan' can be summarized into formation of integrated complexes, support of company growth, promotion of talented individuals, support of MICE (Meeting, Incentive trip, Convention, Exhibition&Event) industry, and enhancement of private partnership.
Blockchain integrated complexes will be set up at 'Gaepo Digital Innovation Park' and 'Mapo Seoul Startup Hub'. By utilizing current space, Seoul-si is going to prepare 23 hubs (600m2) in Seoul Startup Hub and 50 hubs (2,325m2) in Gaepo Digital Innovation Park by next year.
At Gaepo Digital Innovation Park, Seoul-si is going to prepare 13,000m2 'Seoul Global Blockchain Center', which will allow 120 companies to move in, by 2021.
In addition, it is going to support promising blockchain-related startups by forming a fund worth $88.2 million by 2022. It is going to provide up to $883,000 (1 billion KRW) for small and medium companies and venture companies (9,000 cases annually) that have difficulties of commercializing their technologies because they do not have any experience.
It is also going to promote promising individuals. It is going to operate 3 education courses such as corporation and practical affair, foundation, and professionalism with a goal of producing 760 talented individuals by 2022.
For events that are held in Seoul and have international competitive edge, it is going to provide up to $88,000 (100 million KRW) to help their growth. It is going to attract international meetings that have more than 50 foreign participants to Seoul and develop 'Blockchain in Seoul' tour course to introduce blockchain industry hubs in Seoul.
It is also going to form 'Seoul Blockchain Industry Development Consultative Group', which will have associations, companies, universities, and research institutes, to develop blockchain industry. It will be led by private companies while public organizations will give support from the side.
"We are going to support every area at the same time while establishing South Korea's biggest blockchain integrated complexes at the same time." said Mayor Park Won-soon. "We are going to attract promising companies and individuals to Seoul and prepare foundation to grab upper hands of global markets."
Staff Reporter Park, Jungeun | jepark@etnews.com