Nonghyup Bank (President Lee Dae-hoon) is going to work on promoting promising South Korean startups after joining hands with large banks, venture capitals, and IT companies from Russia. They are going to work together for digital financial businesses and to invest in promising companies and even look into establishing joint-ventures in a medium to long-term.
It is expected that President Lee Dae-hoon's plan to expand its digital business will reach even Russia.
According to industries, Nonghyup Bank held a private meeting with Gazprom Bank, which is considered as one of the three biggest banks in Russia, a FinTech company investing institution called Digital Horizon, Russia Quantum Center (Quantum Research Center) that studies quantum computing, blockchain, and biometrics, and Smart Pitch Technology Center (biometrics and security center).
With Vice-President Joo Jae-seung of Nonghyup Bank presiding, these Russian companies and Nonghyup Bank decided to look for ways to work together and to promote promising South Korean startup companies.
Previously, Gazprom Bank visited Bithumb and looked for ways to work together with Bithumb.
It is heard that these Russian institutions requested Nonghyup Bank to work together for various financial businesses.
First, they talked about investing and promoting promising South Korean startup companies.
"We are currently looking into connecting two of promising South Korean FinTech startups with these institutions." said Vice-President Joo. "Gazprom Bank has requested omnidirectional business cooperation to us."
If partnership is established between the two, groundwork for working together with other 6 institutions including Digital Horizon will be prepared.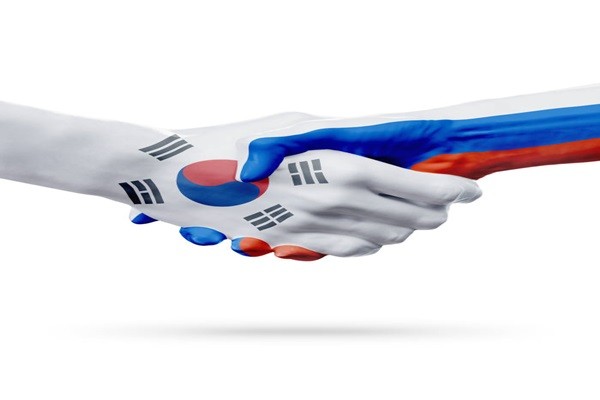 Digital Horizon is operating 6 commercial service teams and it is looking into working together with Nonghyup Bank regarding relevant businesses. Digital Horizon looks for innovative companies and operates incubating business that establishes prototype of partnership network between industries.
Areas that its business covers are API-based banking service platform for small and medium companies (APIBank), comprehensive cryptocurrency platform (Aximetria), cash withdrawal service at retail stores (Cashout), API and blockchain open platforms that connect buyers and sellers (Faktorin), cashback service (PayReserve), and wire transfer service (WishNinja). Nonghyup Bank and Digital Horizon are looking into connecting these 6 services to Nonghyup Bank's digital channels.
Besides these, they are also going to provide infrastructures for launching startup FinTech companies and establish partnership between joint-ventures and industries.
Synergy within blockchain industry is expected especially.
Nonghyup Bank is planning to connect startup FinTech companies that were found through 'NH FinTech Open Platform' and 'NH FinTech Innovation Center' with these Russian institutions.
Its plan is to promote even more FinTech companies and help them to expand their businesses overseas through its discussion with Russian institutions.
"Through our discussion with these Russian institutions, we are planning to help South Korean startup companies to go overseas and have more partnership with foreign companies that specialize in new digital technologies." said Vice-President Joo Jae-seung of Nonghyup Bank. "Under our open innovation strategy, we are going to achieve promotion of FinTech industry and innovation of new technologies."
Staff Reporter Gil, Jaeshik | osolgil@etnews.com