South Korean financial authorities have started omnidirectional investigations on South Korean ICO (Initial Coin Offering) companies. This is expected to cause a controversy again as some associations and groups are strongly opposing these investigations by calling them another restriction and forming group actions while gathering opinions.
Many of ICO companies see these investigations as a 'trick' as South Korean Government prepares for an audit on government offices.
According to industries, Financial Supervisory Service (FSS) have been issuing written inquiries that include 52 items regarding an investigation to South Korean ICO companies since the 10th.
This written inquiry includes current status of company, detailed information on ICO project, current status of progress of ICO, benefits for investors, and amount of supplies designated for South Korean residents.
FSS replied by saying that this written inquiry is just to investigate current status of ICO.
Previously, Director Yoon Seok-heon of FSS officially announced that it will prevent illegal acts involving cryptocurrency and ICO. It is heard that he ordered for inspection on appropriateness of ICO especially and that this investigation is a follow-up process of his order.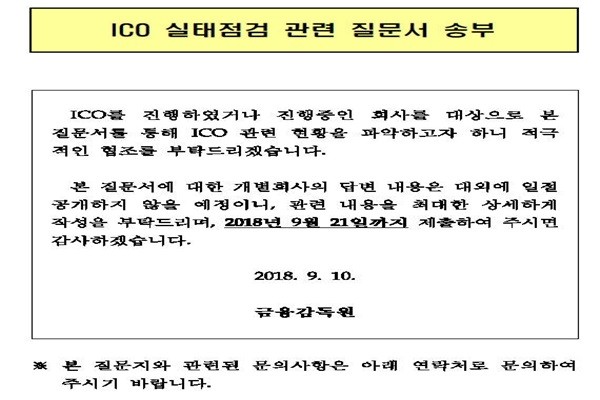 Some associations and groups are opposing this investigation by telling FSS to make every information regarding ICO public. Also, they are worried that this investigation will repeat another negative cycle that will greatly impact ICO markets.
Some companies are considering not to respond to FSS' written inquiry at all.
There were rumors about complete enumerations and search and seizure done by South Korean prosecutors on ICO companies back in June.
Some see this investigation as a preliminary work before South Korean prosecutors carry out another investigation in the future.
South Korea's ICO industry has started to look for causes and why FSS has issued this written inquiry. It has decided to gather opinions from ICO companies and send them to FSS.
"This investigation could be a part of gathering materials to answer to a government inspection." said Koo Tae-un who is an attorney for TEK&LAW. "There is a high chance that some members will request investigations and accuse ICO companies and start to take down ICO companies during the second half of this year."
Staff Reporter Gil, Jaeshik | osolgil@etnews.com